Last November we made a 14 hour trip to the Ozarks of Arkansas to pick up our new, or soon to be home-on-wheels. She was old, smelly, missing a front window and definitely not in towable condition. But hey, we towed her 475 miles on old (original) tires and original axles. Did I mention most of it took place at night?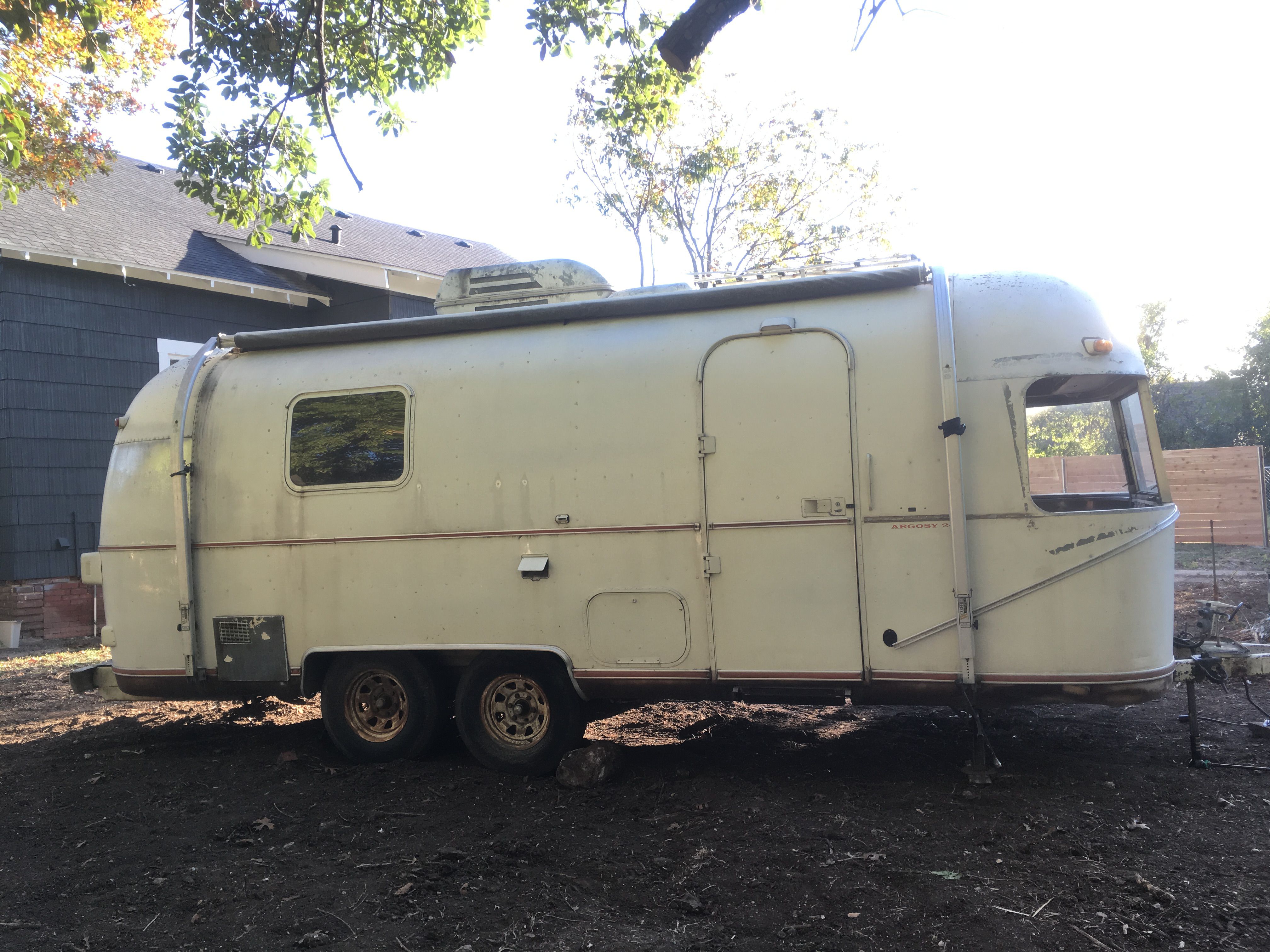 Anyway, once we got the new (to us) Airstream back to Texas, we parked it in my brother's driveway because we didn't quite have a driveway yet. We could have parked it at my dad's, though I am sure he is grateful we didn't, we were already utilizing his driveway for our other Airstream. We sure are a bunch of moochers.
I keep calling it an Airstream, but it is really an Argosy, a sister of the Airstream. She is made by Airstream and has all of the same parts, but instead of being shined, they are painted. Which is one of the reasons we wanted to go with an Argosy over an Airstream. Brandon didn't want to shine his third Airstream. However, I'd say that the painting process wasn't necessarily any easier.
Everything in this Argosy is brand new with the exception of the AC, stove and refrigerator. All three were in working condition so we figured we would hang onto them until they went out. But everything else, brand new. Down to the axles. One thing we knew wouldn't work with this current Argosy were its gray and black tanks. They were both pretty small and considering the amount of boondocking we do, we knew those were going to have be replaced. Brandon replaced them both with 39 gallon tanks.
Most folks who renovated their home wheels, especially those who love to boondock, are big on the composting toilet. And when we were initially planning this build out, I thought we'd go with a composting toilet. HA! After watching a video on what it takes to use a composting toilet and then empty it, we both decided we would much rather spend a few extra minutes at the dump station.
The layout was another thing that was important to us. After living in a big, beautiful new Airstream, we knew we needed the bed to be in the back and the bathroom in the middle. The original layout of the Argosy had the bathroom in the back and then twin beds in the middle. Brandon did a good job of documenting the layout rebuild in this post. 
Our shower is actually much roomier than the shower in our new Airstream, which is nice, but the hallway is a little tighter. You give some, you take some, am I right? We used a fun vinyl floor for the shower walls, which gave it a little pick me up. We used that same vinyl floor on the kitchen backsplash and as the bathroom sink counter. I'd say we are pleased with how it turned out.
The kitchen has a super large, deep sink which is great for washing dishes by hand, because well, these bad boys don't have room for a dishwasher. Our counter is unique in that it has a fun herringbone pattern compliments of IKEA. We went with black finishes (drawer pulls and faucets) along with black cabinets. There are some imperfections in the wood that may or may not have been as obvious if we had stained the wood. We will never know!
Right next to the door is our refrigerator and pantry area. The pantry has proven to be the perfect size for all of our dry goods. One thing I will say about the door placement is that it's now in the front of the trailer, opposed to the back like our last Airstream. Which means every time I get out of the truck to go to the trailer, I walk to the back of it only to find out the door is in the front. It's funny how those subtle habits form without you ever really thinking about it.
One thing I thought I was dead set on was adding a washer/dryer combo to our new home on wheels which would have (and still would) fit perfectly in our closet. It would sit right on the wheel well so the weight distribution wouldn't be an issue. Anyway, I moved on from that obsession and decided we will just purchase a Panda for our longer trips. Most of our clothes are quick dry anyway so it will work perfectly.
Next to the closet is our set of drawers which can fit all of our clothes, towels and sheets. The top of the dresser has plenty of surface space for us to set our laundry basket, which is designed to fit into a corner, and we charge our phones here as well any other electronic device. One thing Brandon did not skimp on was lights and outlets. We will never be in the dark or without a place to charge any of our devices.
When we were searching for an Airstream for our first leg of our full time adventure, I refused to even consider the Airstream that had a corner bed. I knew I would be the one who ended up smushed up against the wall unable to get out easily. Well here we are, two years later, with a bed that is zero walk around room and guess who is squished up against the wall? Yeah, you guessed right. Anyway, the bed is actually really roomy, it just is unfortunate for Brandon that I have to crawl over him to get out. Which happens at least four times a night.  A dog is chirping because they are thirsty so I have to get up to get them water. Oh, now they are chirping because they cannot see to get back on the couch, so now I have to get back up to help them on the couch. Oh looky there, now George is whining to get in the bed, so here I am again, crawling over Brandon to help George on the bed. And now the sun is shining and I am WIDE awake ready to start the day!
The dinette area isn't 100% complete yet because we need a new table top and I need to fix those saggy curtains which I made out of some blackout curtains that we no longer could use. They actually work really well at keeping the heat out which is a plus. One way we changed the dinette area was to make the seating wrap all the way around the front. It's worked out well so far!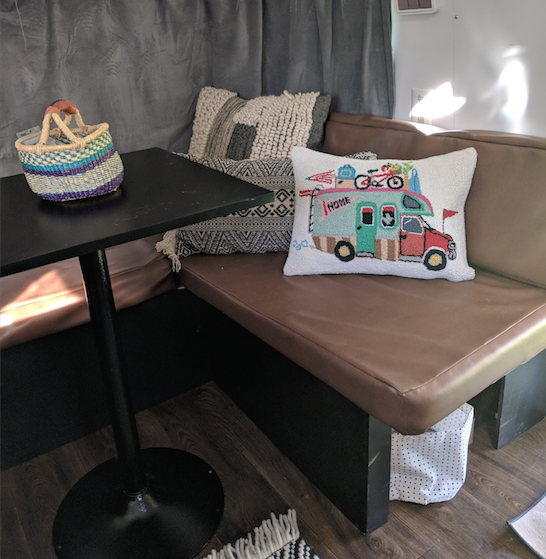 Our new home on wheels is super duper cute, but she is super duper small. It takes the phrase "tiny living" to a whole other level for us. I am now caught oogling those Prevost buses every time we see one wondering how I can get my hands on 1.5 million dollars to snag one.