When we left Bainbridge Island, WA we headed directly into northern Idaho to the town of Coeur D'Alene. We had found a spot on Campendium that was going to be perfect. It was free, in the woods, with an awesome view and the reviewer said there was cell service. We didn't need anything more. We'd even prepared for this by filling the trailer full of water, emptying our tanks, and then making sure our spare water jugs were full.
When we arrived at this awesome dry camping location after winding up a mountain we quickly realized there was no cell service. Well bummer, now we have to back track into the town of Coeur D'Alene to find a place to stay for the night. We went to an RV resort right on Lake Coeur D'Alene, but they were full, as was every private RV resort in the area.
We then headed back out of town to check out a state campground to see if any of their walk up spots were available, nope. All full. Well we turned the wrong way out of the campground and ended up on a one lane forest road. It was gorgeous, but tight! We drove for a few miles hoping maybe our internet booster would work, but no luck. Mr. TCP then had to do a 74 point turn to get us out of this very tight forest road situation. It was impressive, and not our last crazy turn around in backwoods Idaho.
As we headed to the nearest Cabela's to stay for the night, we passed a privately owned RV campground, we pulled in and found they had some availability. We had internet service and place to park for the night. Hallelujah.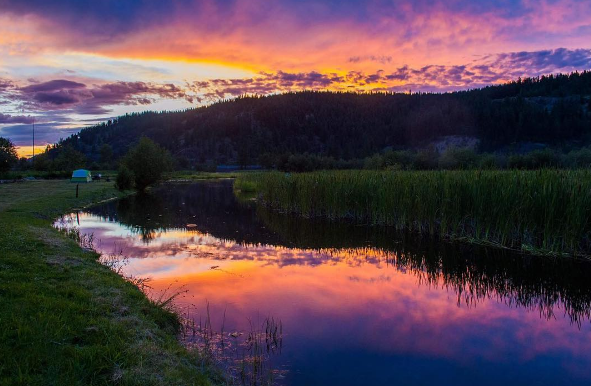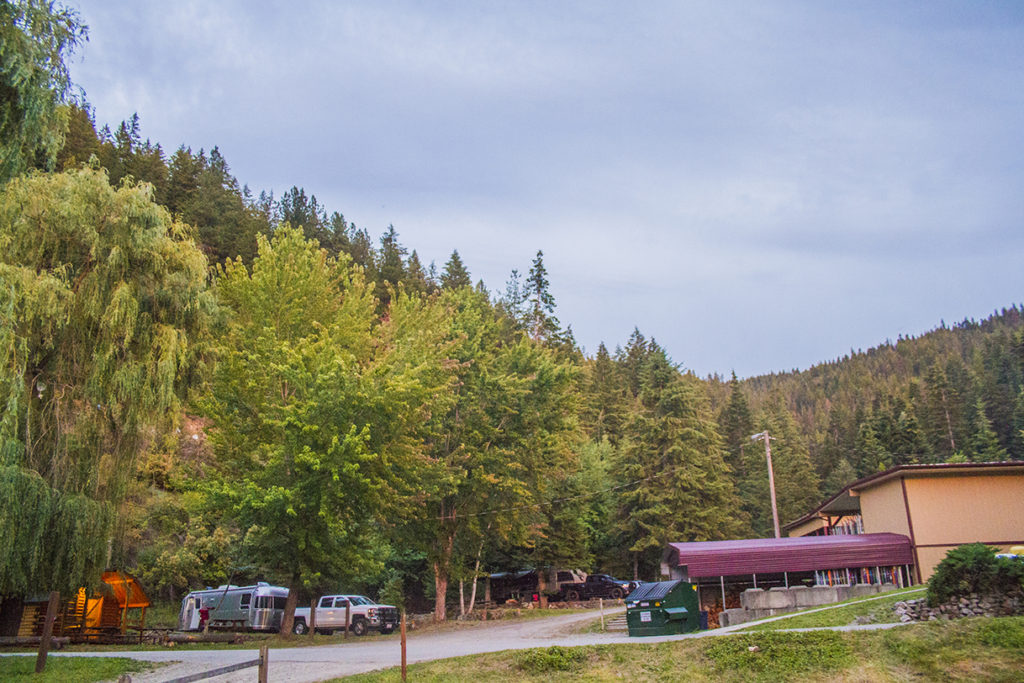 We spent some time exploring Coeur D'Alene and my goodness, this place is gorgeous! The lake is stunning and the little town center is quite cute. We went on two hikes, one that originated from the town center and the another that was just right down the road from our neighborhood, Mineral Ridge. I had planned for us to run the Mineral Ridge trail as our daily workout, but apparently, it was quite the elevation increase, so we ran/walked the trail.
We left our cozy neighborhood on Thursday in search of a great dry camping spot we discovered via Campendium right on the Coeur D'Alene river. It was perfect! Until we realized we didn't have any service. Oh and the GPS coordinates took us to a completely different area. Again, we drove around until we found a spot that had enough service for us to work on Friday. And we found a perfect little spot right on the river. The Airstream is 8 feet wide and the road to get into this perfect spot was about 7 feet wide, but fear not, we pushed through and were able to squeeze right in.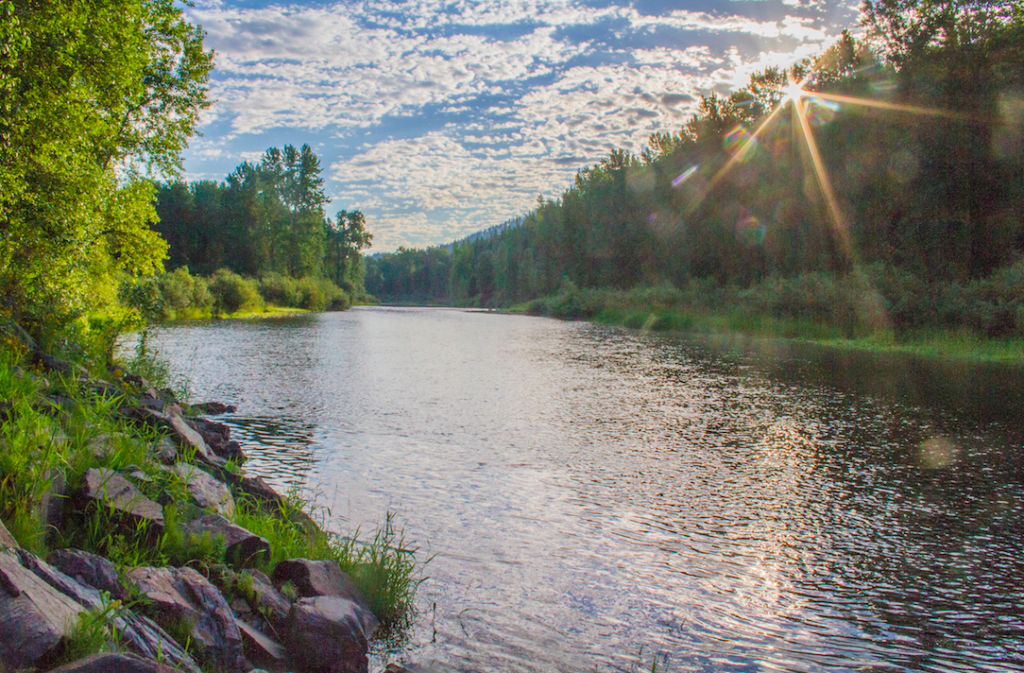 When we woke up on Friday morning, the internet had gone away completely so we had to pack up and head out.
This is where things start to get real fun. We had decided we would head up to Priest Lake for the weekend with a vague plan as to where we would stay. There were a few different campgrounds and then a bunch of forest roads so we knew would could find somewhere to park. We arrived that Friday evening and drove through three campgrounds only to find that they were full. As we were pulling into what we thought was the entrance for the fourth campground we quickly realized it was not. It was the dirt road for the boat launch. Which was TIGHT and crowded. But, once again, we got through it without dinging the trailer. We finally found a little spot on a forest road where a few other folks were parked and we called it a night.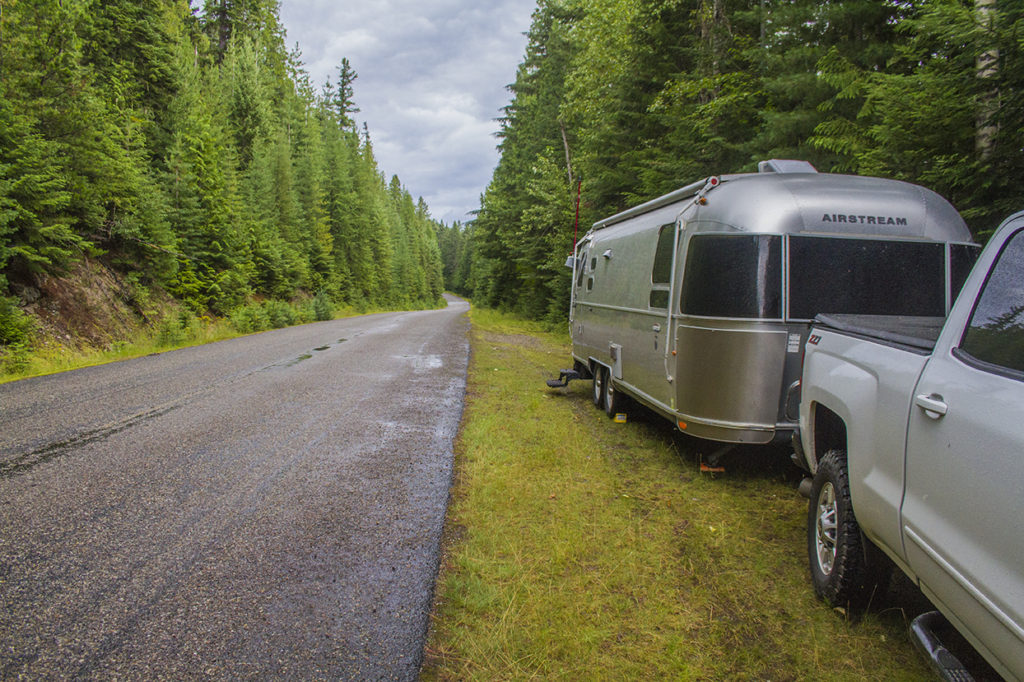 The next morning we headed to the northern region of Priest Lake to one of their larger campgrounds to see about snagging a spot for the night, but once again, it was full. HOW DO PEOPLE LIKE CAMPING THIS MUCH?! If we didn't live full time in our plush comfortable Airstream, I would never camp. It's a ton of work, people! Anyway, we paid for a day pass and just spent the day running around the park and swimming in the lake. It was lovely. Around 5 o'clock we set out off again to find another place to stay for the night, and just like the others, it was full. You see, we can't call these campgrounds because NO ONE EVER ANSWERS the phone. Well, that is not true. The government run campgrounds are the ones who don't answer the phone. The privately run campgrounds ALWAYS ANSWER their phone. Anyway, we then found a great little spot down a forest road to stay for the night. It was actually a first come first serve campground with designated spots with no fee. As we headed to this spot we quickly realized, our rig was a bit much for this place, and it was going to be a tent only access by way of your beat up Subaru kind of campground. Not with your giant diesel pulling a luxury travel trailer.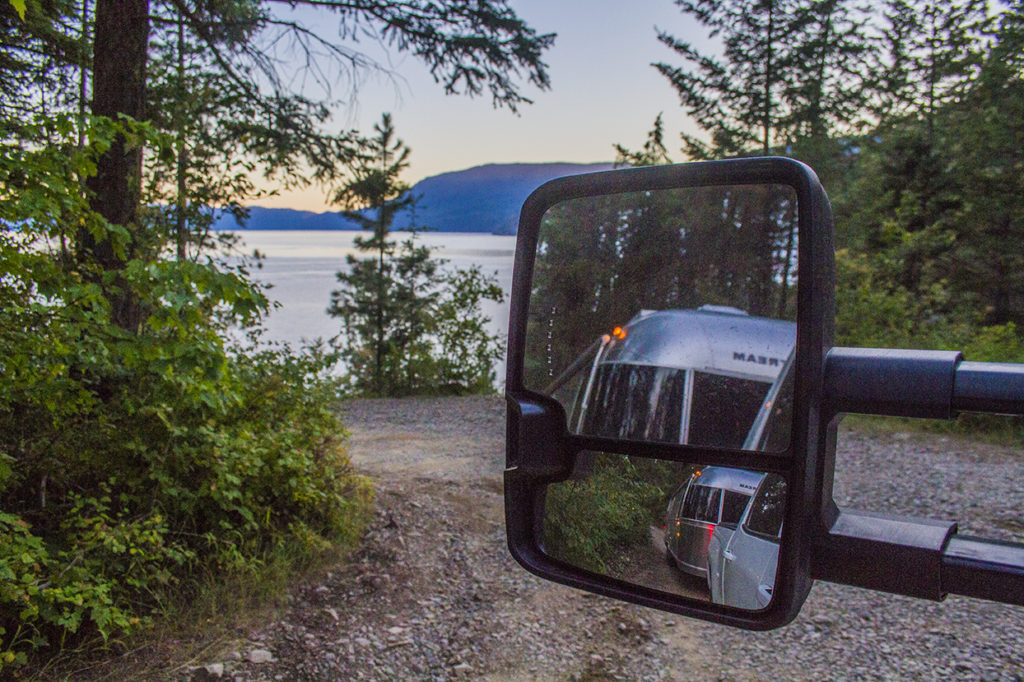 Well, here we are again, having to turn around in a super cramped space with only a few feet in each direction to pivot. But Mr. TCP got us out of this situation and we moved on down the road to stay at our first ever Wal-Mart parking lot. We weren't alone though. This parking lot was full of travel trailers. They have some rules that you should follow such as, do not use your slides outs, do not sit outside of your rig, and do not use your grill. Well, when we pulled in, you would have thought we were at a campground. Everyone had their slide outs popped out, they were grilling, and sitting outside their rigs in their camping chairs just watching people drive by. When we arrived at the Wal-Mart parking lot we realized we had lost our sewer cap set up. This is not surprising. That last road we went down was TIGHT and there were some low rocks that I believe can be identified as the culprits of the lost sewer cap.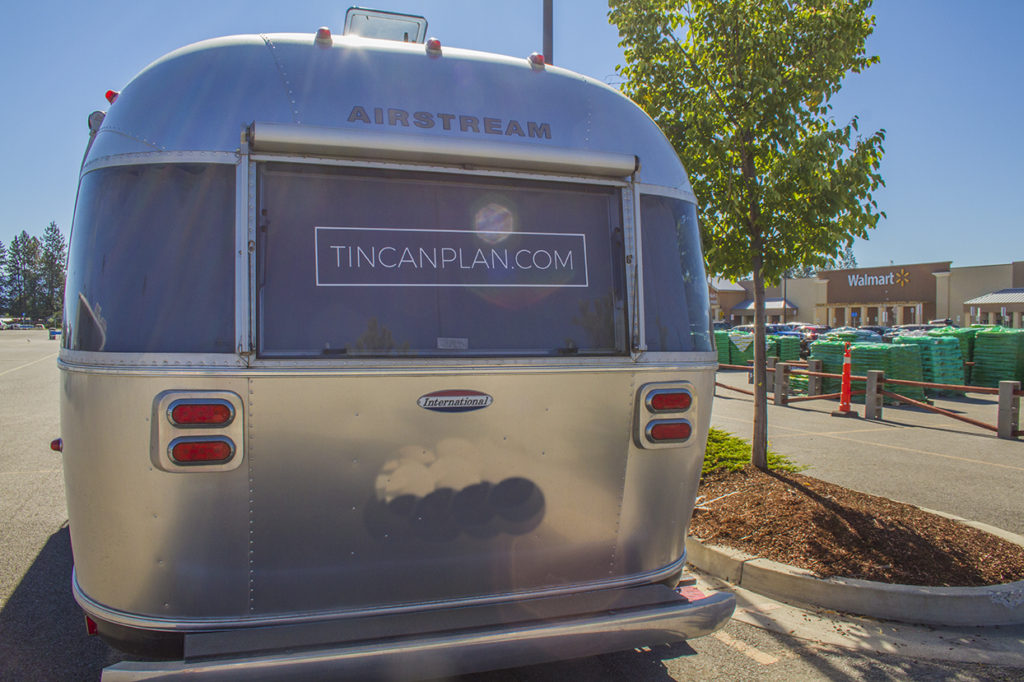 The next morning, we woke up and headed to the nearest state campground to see about finding a spot for the night, you know since it's a Sunday, we figured all of the Idaho folks had headed home. Well, they hadn't but there were two spots open so we quickly jumped on one of them. As we pulled back to the campsite we lost our internet connection. Welp, back to the ranger station to see about getting a refund. They gladly refunded us our money and then told us about another loop which would have better cell service and there was spot open over there so we could check it out. We did, and much to our surprise we had service! We unhitched and I went back to the front to pay yet again for this spot. Finally! A great little spot on the lake to stay for the night. It's the first time we had unhitched in three days. We road our bikes down to the lake and spent a few hours swimming around. When we got back to the trailer we spent the next hour cleaning the inside and washing the dogs.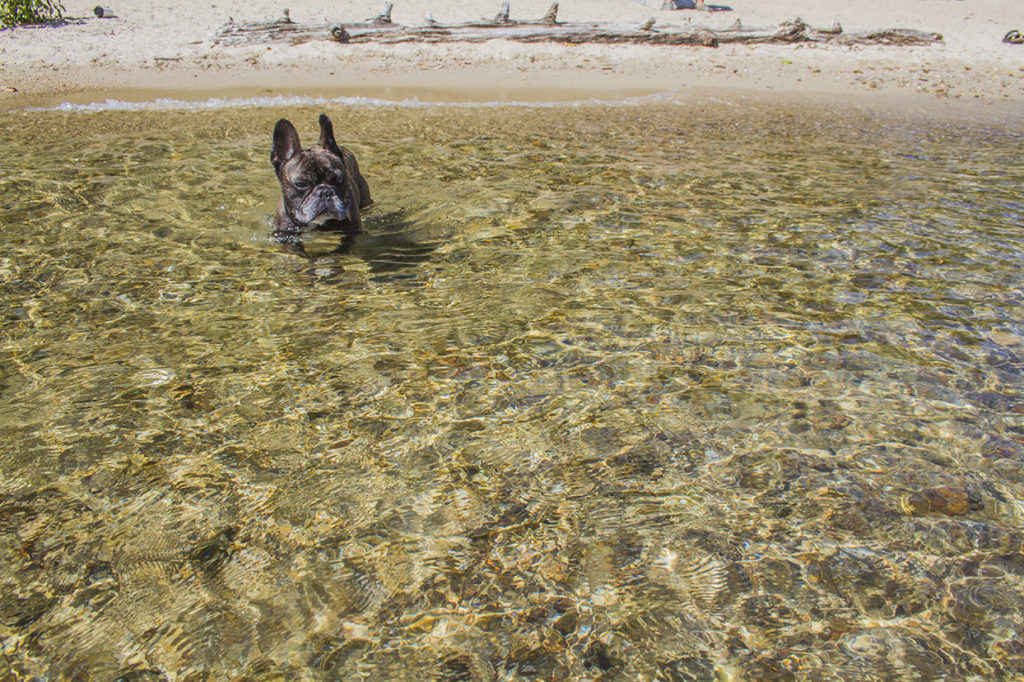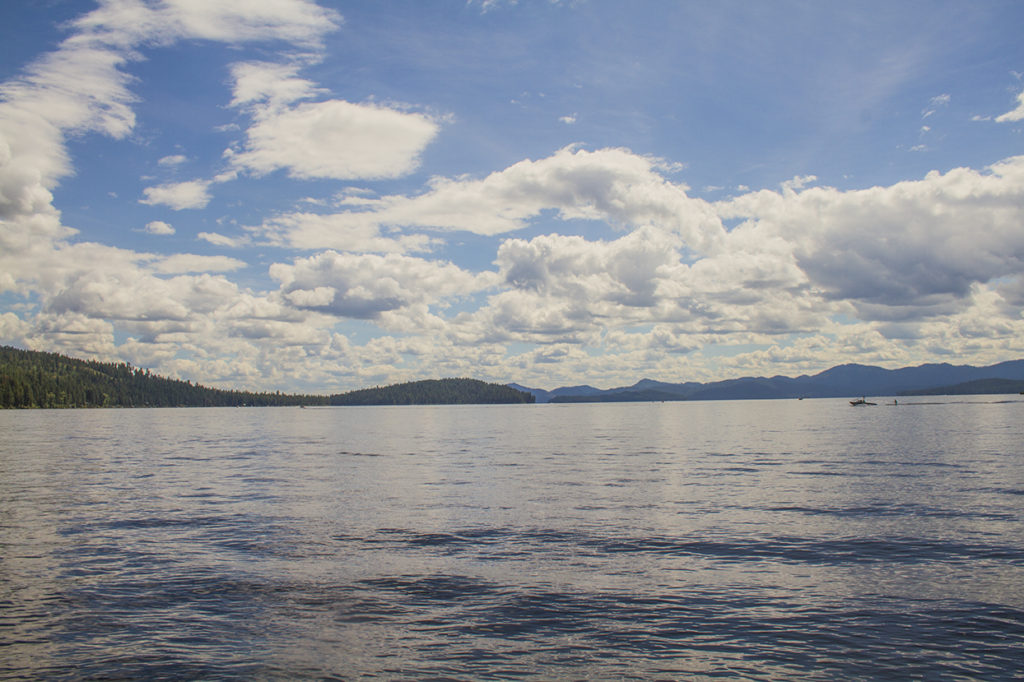 Once we finally sat down to use the internet, we realized it wasn't working. Not a single webpage would load. It was dinner time at this point but we looked at each other and realized we had to pack back up and head to the original campground we started at when we first arrived in Idaho. I called ahead and the manager informed me there were a few spots so we hitched back up and headed on over. Fortunately, northern Idaho isn't very big so it took about 45 minutes to get back to the original campground we had spent the previous week. So for Sunday evening we paid for not one but two spots. You're welcome, Idaho.
All in all, we are both beat down and a bit frustrated. We do understand this lifestyle comes with it's set of challenges but goodness gracious. I would have given anything to just have a stationary home with running water, working internet, and a BIG COMFY bed. We both said that from this point forward we will have a plan. And in reality, we had a plan the entire time, it just didn't work out. And that is life. Plans sometimes don't work out. One of these days we are going to wind up one of these forest roads and be met by the end of a shotgun. And until that happens, we will continue to look for a perfect spot in the wild. JUST KIDDING, mom and dad.