After we learned that most of our favorite destination, Glacier National Park, was still covered in snow with more on the way, we headed south. We did a big ol' circle, going back through Jackson, Wyoming, headed for Pinedale. We met a fellow traveler who said it was  a cool little place to visit. It was still a bit chilly and rainy when we got there, plus we couldn't get a good internet signal. Without internet, we had to move on.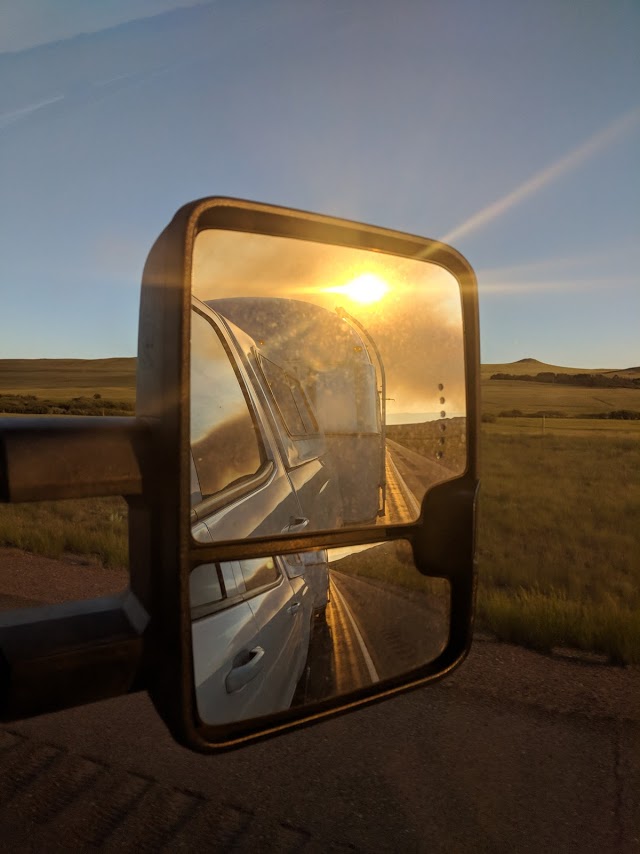 That's where things got really fun! You see, in Wyoming, there's a lot of wind. And boy, did we encounter some! We're talking about 40+ mph winds in some places. It was a white knuckle drive, that's for sure. We were headed toward Rock Springs and I wasn't sure if we'd actually make it! The wind in Wyoming was so bad, it literally ripped our main awning right off the trailer! I saw it in the side mirror flopping around and then went bloof! It flew off on the side of the highway.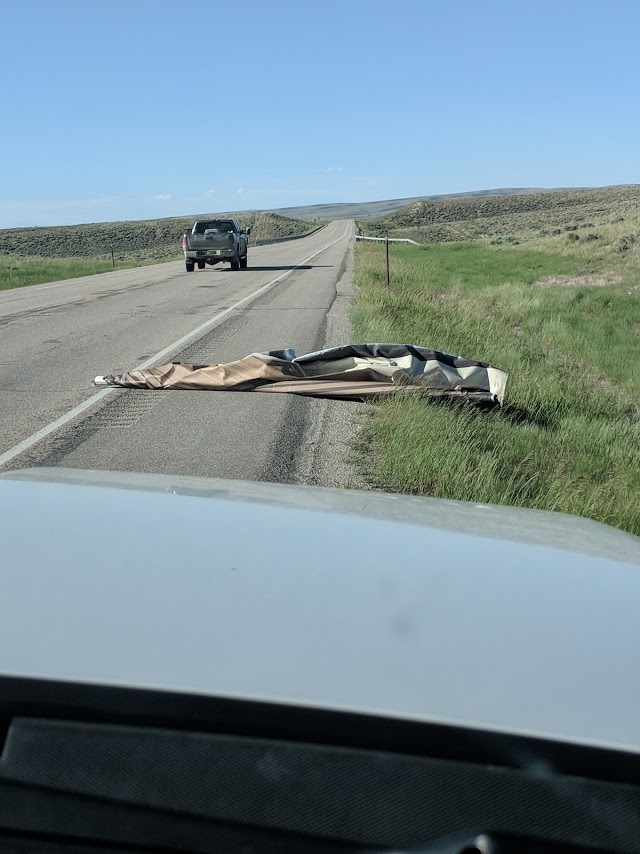 Luckily, I was able to go back and get the roller bar and fabric, but I fear the whole thing will be replaced. Durn! The awning roller arm is about 16 feet long. So, here I am on the side of the highway with tornado winds and I'm carrying this awning that could very well be the sail that takes me away with the wind. And, the durn thing doesn't fit in the truck! Finally, I figured out that I would remove the back window screen and slide the whole shebang in through the window. We were ready to get back on the road.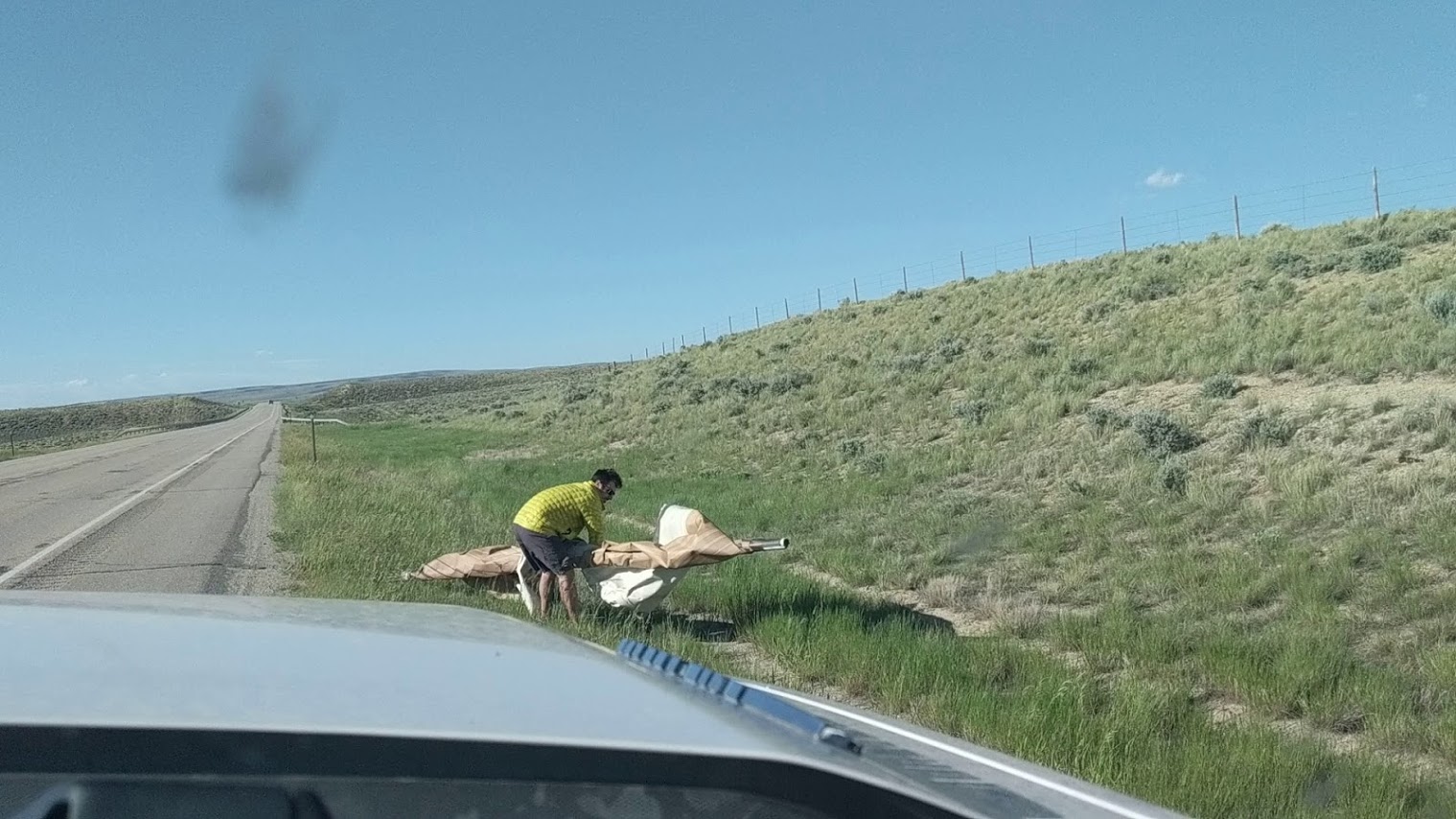 We stopped at Walmart in Rock Springs and stayed for the night. There were a ton of RVs there to get out of the wind. It was a dust storm throughout the whole city. When we arrived, shopping carts were flying around the Walmart parking lot!
The next day I did some duct taping, secured the awning arm back to the trailer and we headed out. We made a quick stop at a very nice dog park in Rock Springs. The pooches had a party.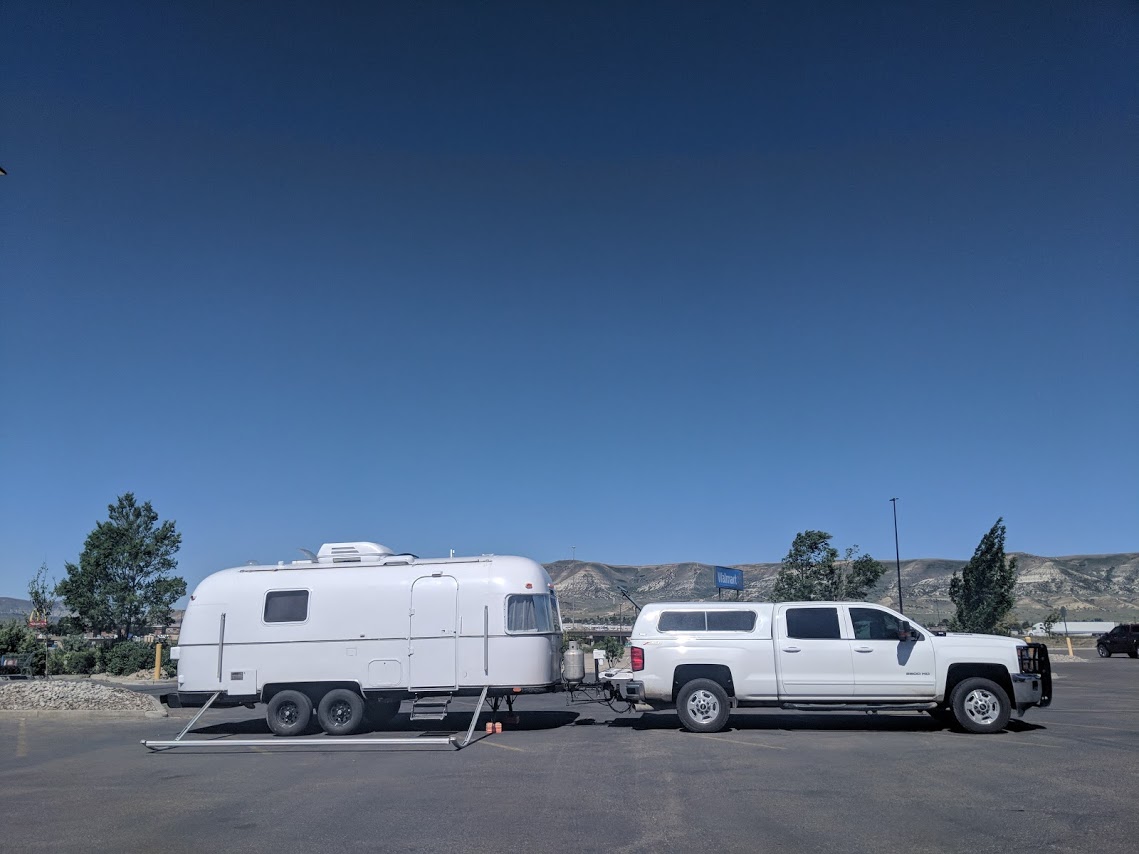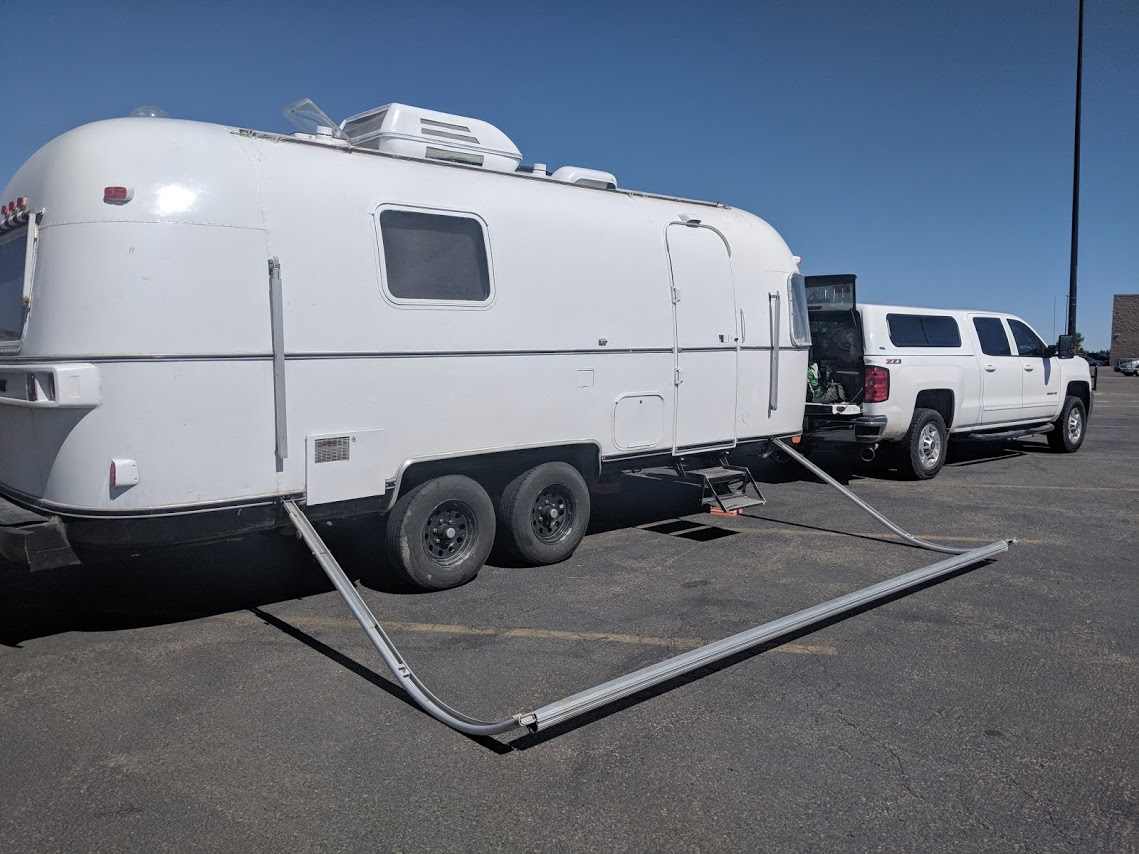 Later, not too far into the drive on the highway, the wind picked up again. That's when I noticed that my air conditioner shroud was flopping around up on top of the trailer! Here we go again! Luckily, I was able to get to the next gas station to figure out how to solve this problem. The ladder I have is too short, so I wasn't able to get up top of the trailer. Mrs. TCP suggested we strap it down over the top of the trailer. The windy conditions were ridiculous and it took me about 17 times to get the strap over the top of the trailer. That was done and we were on our way.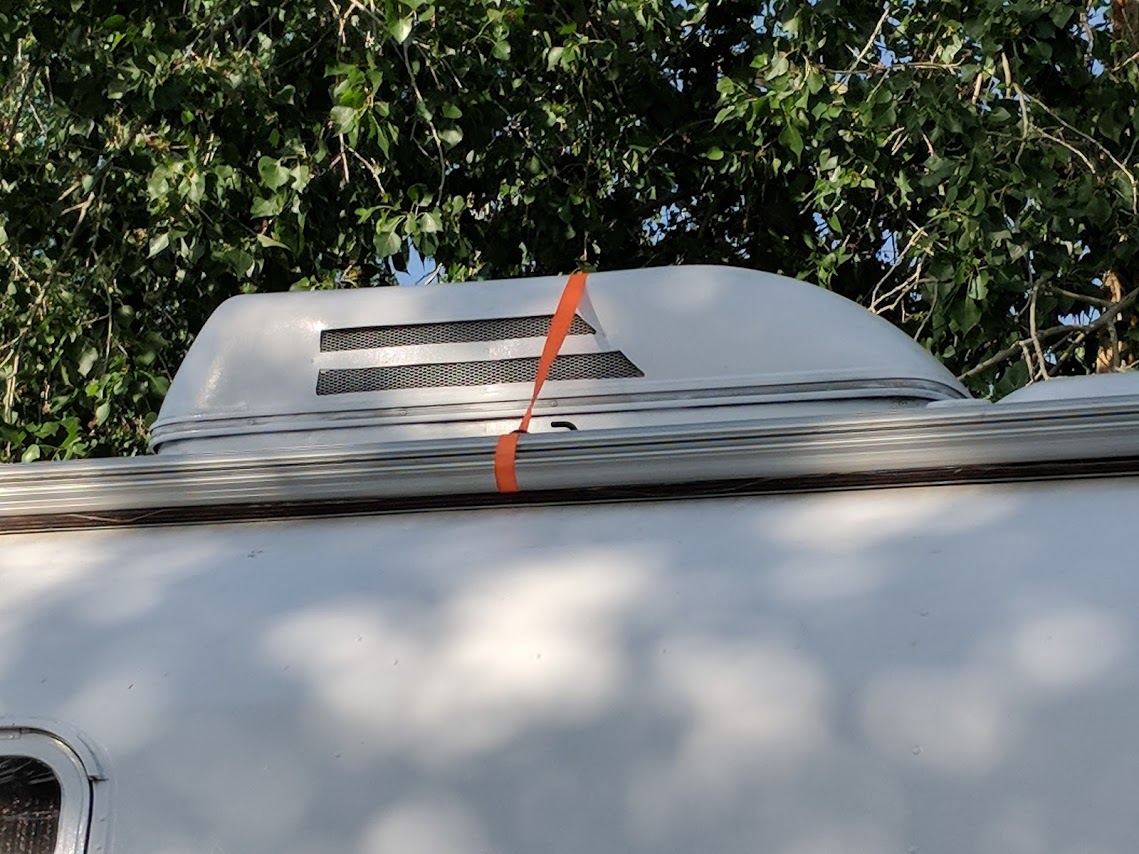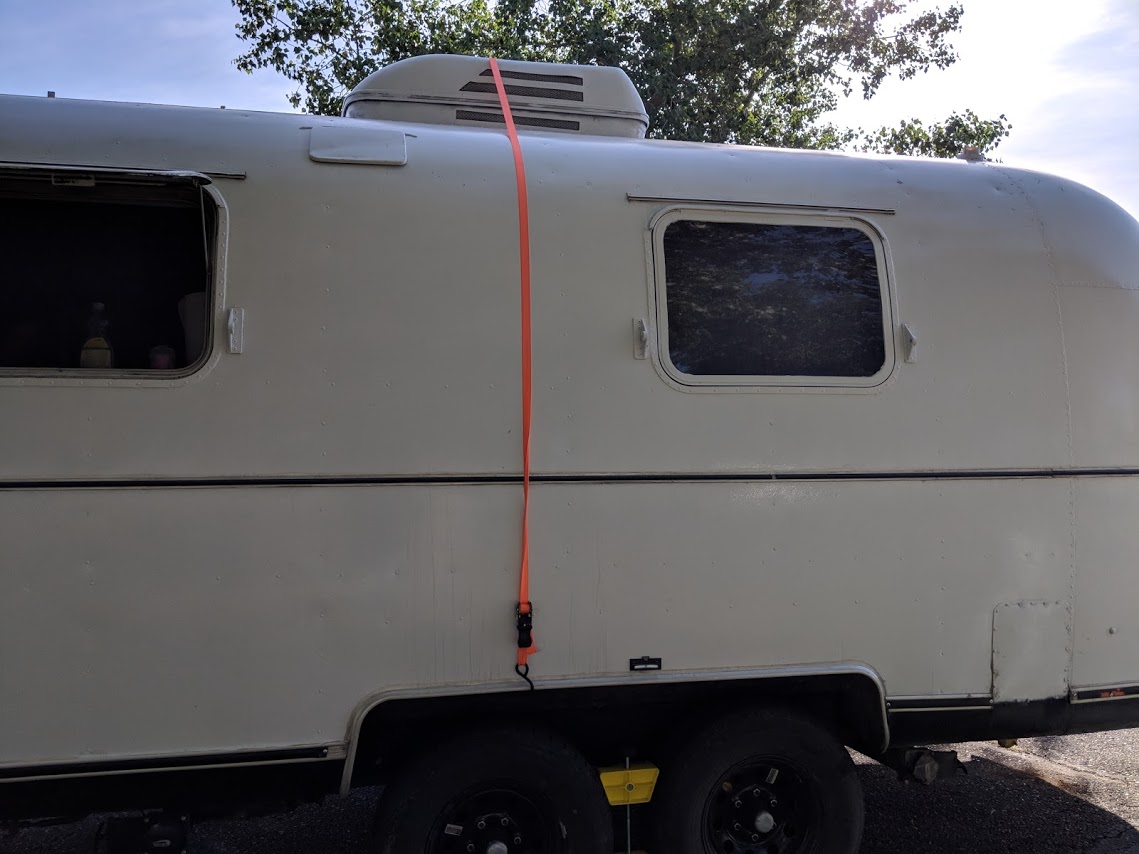 I was starting to feel a little self-conscious about the trailer being all duct-taped and strapped together. But, a gentleman who was transporting a very expensive RV came over and told me that one of the awnings on his mega rig had flown off as well. I felt better.
We finally made it out of windy Wyoming and into Northern Colorado. Later, I read on the news that a tornado had touched down just north of where we had been driving….