In the last post, we mentioned how tough the restoration of a vintage Airstream, or anything old for that matter, can be. There are many variables to consider when attempting to rehab something or make it as new as it once was. Sometimes, the goal is simply to make it livable.
In the case of vintage Airstreams, there are a few important things to remember before you ever even buy a vintage Airstream. Price is an obvious consideration. Likely, it is the most important one. The costs associated with restoring an Airstream can add up quickly. For some, this could mean spending $50,000, or if you're like us, WAY LESS THAN THAT. Seriously, if you have the money to spend, look for a real nice, used model Airstream in the 2007-2015 range. Most likely, it will be ready to roll once the paperwork is done. No fixes, no repairs, just go. 
Disclaimer: We did buy a 2012 Airstream and it was amazing! We have since sold that one and gone back to an older model.  Still want to go for the old ones? Great. You're in good company, we love old Airstreams! Let's consider a few things.
Price:
The price for a vintage Airstream can vary wildly. You might find a gut job listed for $2,000 or you might find one that is already gutted for $10,000! It all depends on the seller/buyer. I can't tell you that it just isn't worth it to buy a gutted Airstream for 10k, but if it were me, I'd keep looking. One of the first resources I used when looking at Airstreams was Vintage Airstream .
They have a real nice price vs. condition guide that is invaluable when looking at vintage Airstreams. They have a ton of other useful info as well. I also used Airstream Classifieds and AirForums to check out some trailers for sale. Check for yourself, compare prices and practice due diligence.
Airstream Exterior:
Check out any scrape, scratch or dent on the outer skin. There will probably be a bunch. 
You will have to decide if you can live with them or want to be like us fools who have spent hundreds of hours polishing an Airstream. I've found myself inspecting every speck and crevice and wiping it with a Q-tip. It is tough as nails work and it takes forever!
I recommend making sure all windows and most importantly, window hinges, are accounted for. If you buy a trailer with these missing, you will have a hard time finding the parts to match. Also, make sure all the hatch doors are accounted for as well. These are almost impossible to find.
Airstream Floor:
You may not know, but many older Airstreams, and likely other brands of trailers, have issues with floor rot. Beneath any shag carpet, or vinyl tile could be water damage that can't be seen on first glance. You might feel a bit of sponginess here and there, but it might be just fine. CHECK THE CORNERS.
If you can, check the back and front rounded corners. I'm on my third Airstream restoration, and every one of them has had rot in the corners. A good trick is to stand on the back bumper and gently bounce up and down. If the frame moves away from the skin of the trailer, you've got yourself a case of rear end separation. Subfloor replacement will be in your future.
Airstream Interior:
I'm going to lump the rest of the interior in one section. I'm doing this because it all depends on what you want to do with the Airstream. You may want to gut it and turn it into a nice open space.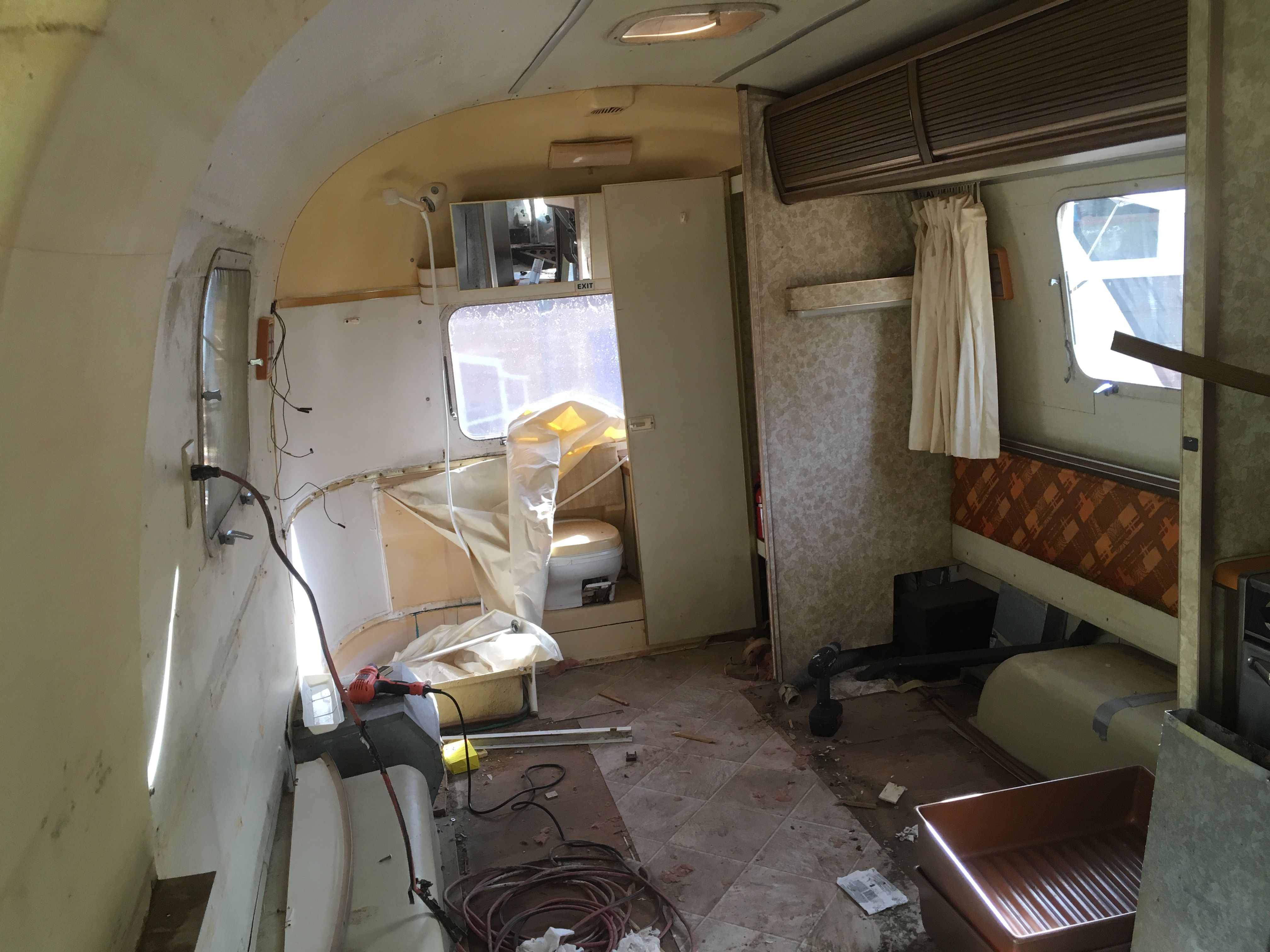 Or, you may want it fully intact, with all systems working. If you want a camp-ready Airstream, there's a ton of things to check out. These can include the water pump, the 12 volt lights, the 110v plugs, plumbing, air conditioner and more. I could create a whole list of things to look out for but again, it depends.
You might be the type to renovate every part of the Airstream or you might want to just get to Montana already. I miss Montana…. Take a look at Air Forums and you'll see there are so many different ways to Airstream it up.
The Drive Home:
Now, this is where it gets fun. This is where you might hit the road and a wheel will straight up fly off. Or, you'll make it just fine and come the next morning, you see how rotted the tires really are or that the tanks are hanging down and a few lug nuts are missing.  You could also be one of the lucky ones who bring home an awesome Airstream in great shape. No matter what, if I'm buying an old Airstream, I always bring some extra tow lights just in case the lights on the trailer don't actually work. I also bring some grease for the wheel bearings. Many times, these trailers have been sitting for years and things have just dried up.
Bring a jack because you don't know if the power jack or manual jack on the Airstream will be stuck. How will you get it on your truck if you can't get it hitched? Sometimes, I'll even bring a spare trailer wheel and tire if I can. Maybe you don't keep spares like I do, but one day you just might! I also bring an air compressor to get the tires inflated for the ride home.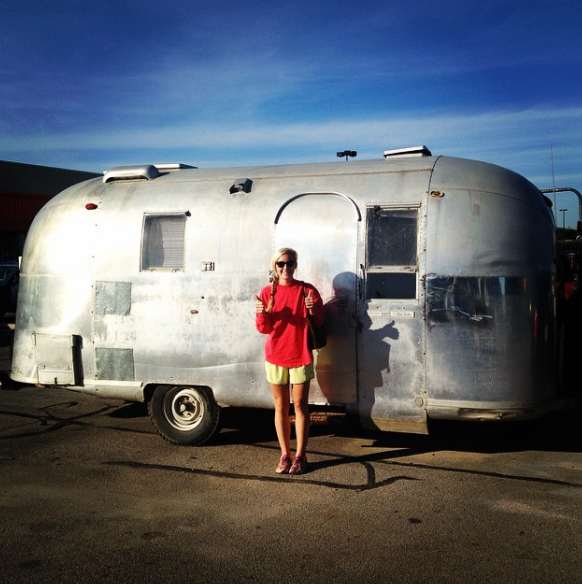 When it comes to buying vintage Airstreams, there is a ton more than this short list accounts for. Check out the resources I mentioned and I hope you find the ONE!
Mr. Tin Can Plan