Visiting somewhere new can be an overwhelming venture, especially if it's another country where you don't speak the native language.
I've been fortunate enough to have visited Mexico numerous times in the past so I knew what to expect in terms of visiting this particular country. However, we have yet to visit Tulum so we weren't 100% certain what to do, where to stay, and how exactly we'd get around the town.
Airport transfer: Let me start by saying, getting to Tulum from the airport is a piece of cake. It's one highway that you take straight there so the chances of getting lost are pretty slim, that is if you drive. If you take a shuttle, taxi, car service or the bus, then just sit back and relax. It takes about an hour and half to get from the airport to the beaches of Tulum.
Instead of taking a taxi, we opted for a car service to take us from the airport to Tulum. It was super simple, you just sign up ahead of time with any of the services you find online and then look for a representative from the company at the pick up area outside the Cancun airport. They'll show you to your car and off you go!
Accommodations: Now that we've arrived in Tulum, lets talk about where to stay. There are so many amazing little boutique hotels, AirBnBs, and other unique options when visiting Tulum. We opted to rent an AirBnB which we loved, but if we return I think we will stay at one of the little hotels along the beach. It just makes for an easier experience to relax at the beach. There are some hotels that are right on the outskirts of Tulum which I believe would make visiting the cute little beach road difficult. And you don't really get to experience Tulum and all of it's greatness.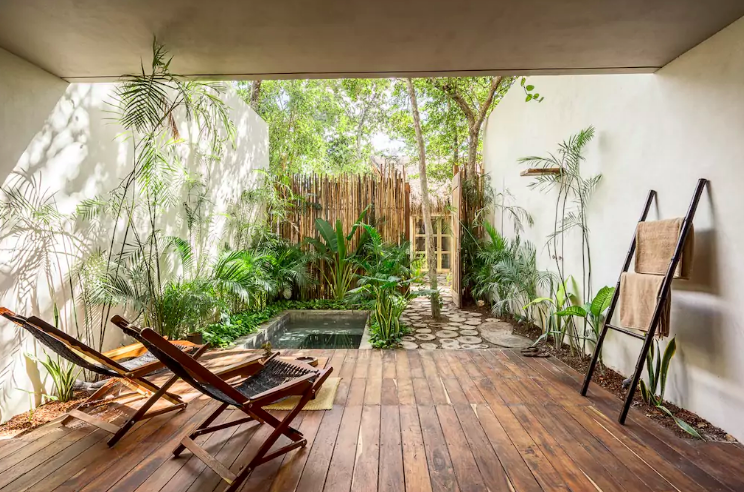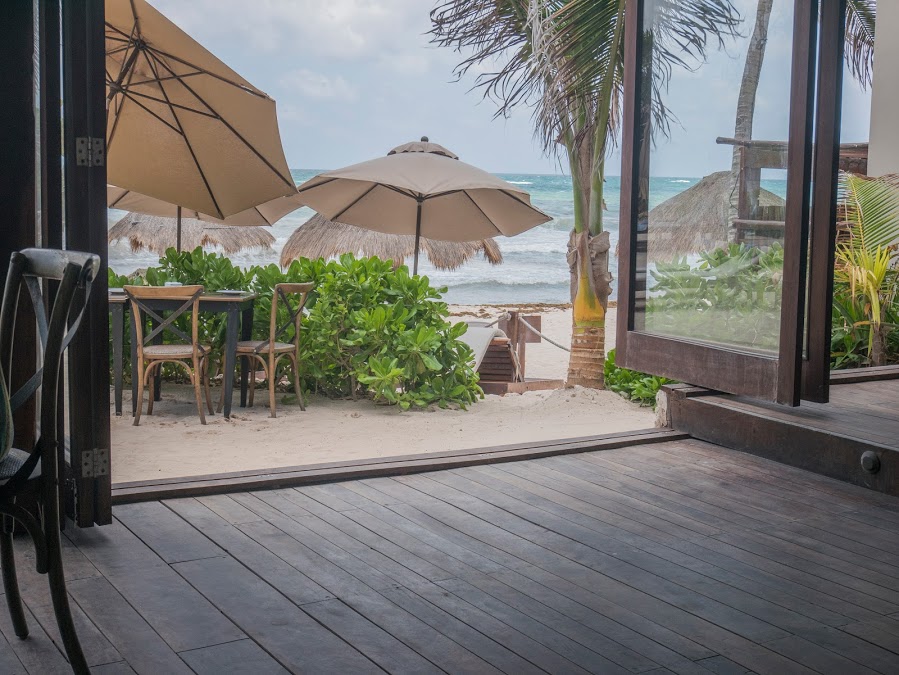 I will note that there are two types of "beach" settings in Tulum. There are the more rocky beaches with less white sand and then there are the white sandy beaches that you picture when visiting Mexico. There are some really nice places to stay on the more rocky, cliff beaches, but if you want to stay at a place right on the white sandy beaches just know you'll need to pay close attention.
If the place you're looking to stay is in the the green area of the Google map below, then it's more of the rocky, cliff type of beach setting. Anything past the green area on the Google map reflects the white sandy beaches.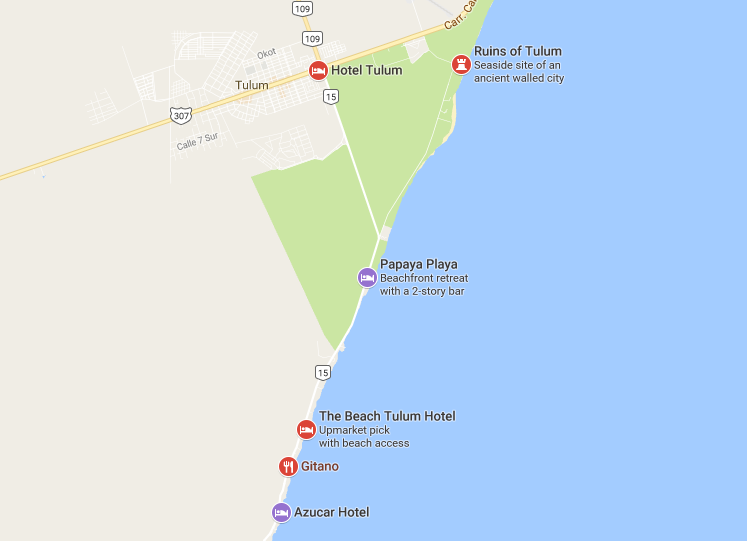 Transportation: Getting around Tulum is super duper easy. We opted for riding beach cruisers everywhere, and I am mean everywhere. The place we were staying had free bikes to use whenever we needed, but you can always rent them from various outfits around Tulum.
However, if you aren't really into riding bikes, you can always find a taxi near by to take you where you want. But I really do recommend biking around Tulum, it's easy to find a place to park your bike and you can get closer to attractions, such as the Mayan Ruins.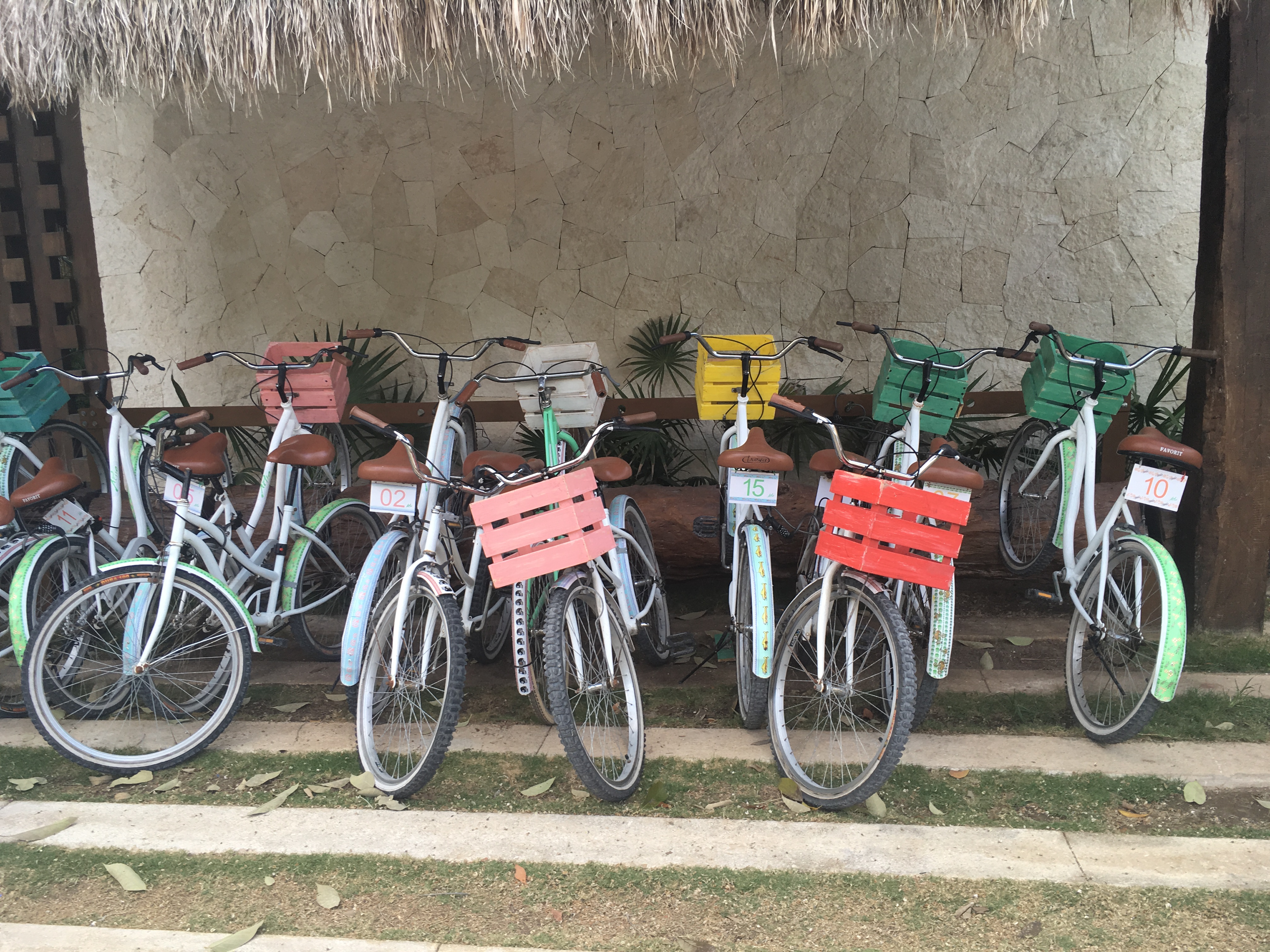 Another option is to rent a car, which will give you the freedom to go anywhere you want, whenever you want. You could even have the flexibility to take day trips to all of the near by Cenotes. What fun!
Dining: Usually when we visit Mexico we always stay at an all inclusive resort, so we knew we'd have to be resourceful when finding places to eat. Fortunately for us, there were plenty of wonderful places to eat all around the beach. Each hotel has their own great restaurant which they allow anyone to dine at, even if you were not a guest of the hotel.
Along with the restaurants at the hotels, there are highly acclaimed restaurants all over the beach road. Staying at an all inclusive resorts takes any leg work out of having to find food, but we found having the option to try different places refreshing.
There is even a giant grocery store near by where we could grab snacks, coffee for the house, and bottles of water (because after all this time, you still can't drink the water).
All in all, Tulum is adorable! Definitely my favorite little town I've visited in Mexico to date. My personal recommendation is to skip the big resort, find a cute hotel on the beach, rent some beach cruisers and enjoy Tulum.