I actually cannot believe it's been three months since we set out on this journey. Time is flying! In just another short three months we will be back home in the great state of Texas. Thinking of that makes me happy and sad at the same time.
It makes me happy knowing that we will see all of our friends and family that we miss dearly. It makes me happy to know I will be able to condition my hair every night. It makes me happy to know that I will be able to use a washer and dryer that only we have used.
On the flip side, it makes me sad to know that our journey has come to an end. It makes me sad that we will be spending much less time in nature and in small town America. It makes me sad to think that we might not ever get another chance like we have right now. I have a feeling that when we get home and unpack all of our things we will get the itch to hit the road again (and we just might!). There is something truly freeing about being able to pick up and change your location. To see parts of the country only accessible by foot. To not know what tomorrow holds is beyond exciting. For some, that would give extreme anxiety, for us, it's fantastic.
As you can imagine, we have a learned a lot in these past three months. We have learned that you need to make sure the front compartment door is shut when backing in, or you will dent your bumper. We have learned that you have to run the A/C on HIGH or it will freeze. We have learned that Google Maps is a big fat waste of time and that real maps have proven to be very useful.  We have learned that we have a leak somewhere, but don't know exactly where. We have learned that just maybe we should have started with a diesel truck…or much smaller rig. We have learned, that in reality, you need very little in life. We have learned to love and respect nature even more than before. 
A side note that is really irrelevant to this post, we have noticed a TON of truck campers. I mean a ton! Mr. TCP has fallen in love with the idea of traveling full time in one. There are people that do it and that love it. There are some people who started out full timing in an Airstream to then downsize to a truck camper. They make some pretty sweet ones. I can see why these are appealing to him. He doesn't have to pull them, back them in, and then dump the tanks. From his point of view, it makes his job much easier. However, wow, what a tight cramped space. I could see this working if we had fewer dogs and were traveling south of the border. Now that sounds fun!
Over the last three months we have visited seven states, over 20 different towns, and over 20 state and national parks. Here is a quick snapshot of the journey as of today.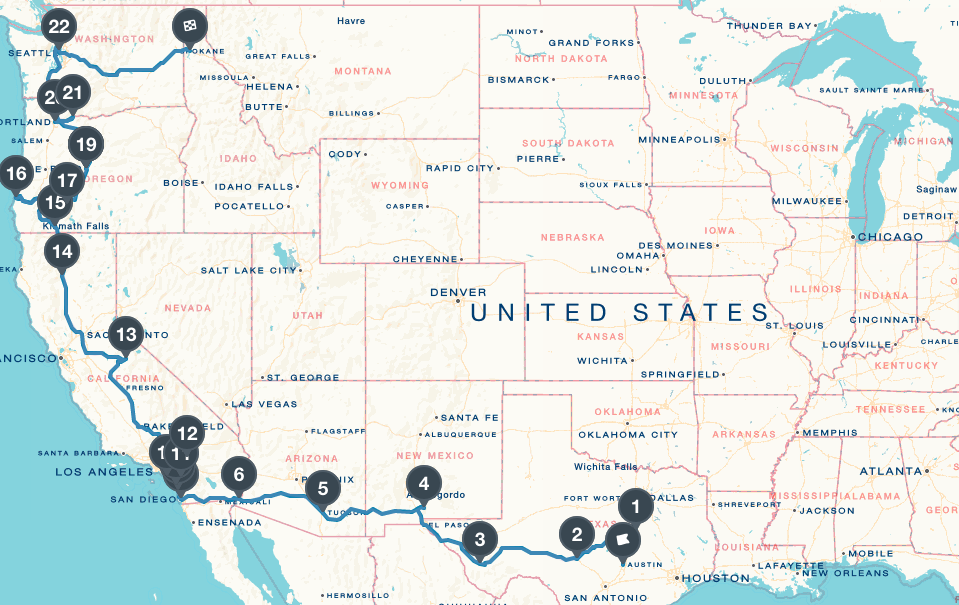 In the coming months we will make our way over to Montana from Idaho and then head into Canada for a week. Our plan is to be across the border by August 1. Canada is going to be a challenge for us for a few different reason but the first being, we have had a harder time than expected finding a reliable internet source for that week.
Once we leave Canada we will make our way back through Montana and then into Wyoming. We do have Yellowstone on our radar but dealing with crowds isn't our cup of tea so we might take a day off work and head in on a Tuesday morning. I am excited to see the Grand Tetons and I have heard about some great off the beaten path camping options around that area.
We do understand that we are incredibly fortunate to have the opportunity to see this great country and all it has to offer. There isn't a day that goes by that we don't thank our lucky stars. And when we do have a moment of annoyance (which is mainly just me being annoyed with things back home or me annoying Mr. TCP) we step back and recognize it's a lot easier to deal with those things from afar. And in the mountains. And with craft beer.
While our journey might be half way over, the old man and I have some pretty exciting plans for when we get back to the motherland so while we will be very sad to end our journey, there is a lot to look forward to.