If there is a place that we could potentially call home, it would be Bend, OR. When we arrived in Ashland I was fascinated by the cute little town and had already fallen in love with Oregon. Little did I know, we would love Bend even more.
The longest time we have spent in one place is seven days. We officially exceeded that record by an additional two weeks. We would have stayed forever if we could, but we must move on. One thing that has been so appealing is that fact that we found the perfect place to boondock. We haven't had a chance to really experience boondocking up until this point and it has definitely been a learning experience. We have had some trouble finding a reliable water source which means we have been hitting up the local grocery store with the Glacier water dispensers. Not only does this get kind of expensive, it's time consuming. You'd be surprised the amount of time it takes to fill five separate seven gallon water containers.
Bend has some pretty kick ass mountain bike trails. The heart pumping kind of trails. The adrenaline rushing kind of trails. The kind that put your bike to the test. WE LOVE IT! We hit Phil's Trail and boy did we stand out. First, our bikes are the sub $500 variety. It's kind of like driving a 1997 Honda Accord around a race track with Audi's and Lamborghini's. We were a bit out of place. The trail has sections that are one way and other sections that warn you to yield the right of way to uphill cyclist so you it's your responsibility to stop for the uphillers. Which only makes sense. Have you ever tried to bike uphill while rock jumping? You definitely don't want to be stopped due to some down hill cyclist breezing by. It was a little chilly out so instead of wearing my regular cycle helmet I decided I could wear my snowboarding helmet which had earmuffs. About half way through the trail, we stopped at an intersection and I had a lady yell "HEY! Are you wearing a motorcycle helmet?" We both died laughing. My head is just that big lady. A typical helmet looks like it should be made for motorized vehicle.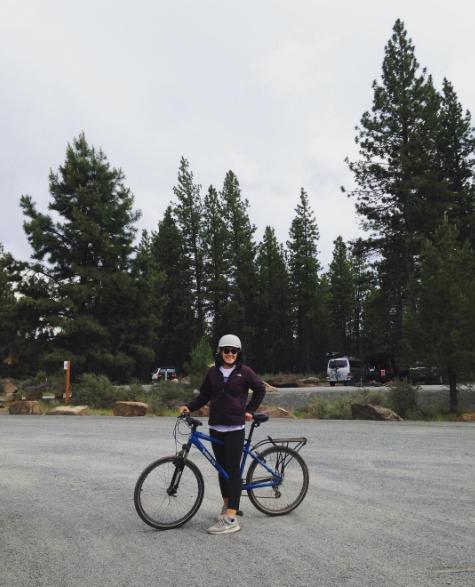 We spent a Sunday hiking Tumalo Falls. The portion we hiked was roughly 6 miles round trip without any significant elevation gain. This was Serendipity's first ever hiking experience! We had heard the trail was easy and the ground was pretty smooth the entire way so we decided she should come along. We don't usually bring the dogs with us because it's either too hot or the trail doesn't allow dogs. I'd say they had a blast!
The town has everything you could ever need. It's full of breweries, pubs, and an endless amount of trails to stroll along the Deschutes river. In the summer they have a fun music in the park series, very similar to Austin's Blues on the Green. Minus the sweltering heat and there are a few less people. Sounds like heaven.
We even spent an afternoon climbing rock walls. We had a ton of fun but quickly realized our upper body strength was lacking.
There was an abundance of kayakers and rafters which looked like a TON OF FUN. One thing we noticed is they would fight the current heading up the river and then sail down the river. This eliminated the whole "how do we get back to the truck" element. A bunch of smarty pants I tell ya.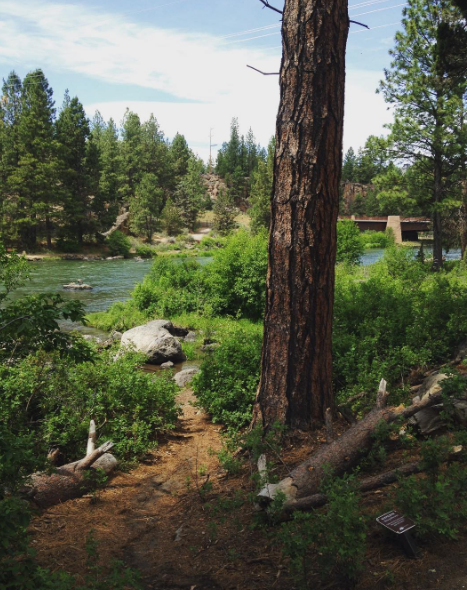 The people in Bend were just the friendliest folks. Many of them were not originally from Bend, but from The South! We heard some "howdys" and "yalls" and I WAS IN HEAVEN! Anytime we brought George with us somewhere it's an immediate conversation starter, back home anyway. And in Bend!
Needless to say, we love everything Bend, OR has to offer. We haven't spent a winter there so I can't speak to that, but I can tell you it's one of the greatest places to visit. I think we might head back Friday!