We are excited to share our cute little vintage Airstream with you! This is a unique "guest house" experience in that we bring the guest house to you. That's right, if you have people visiting, or you just want to camp out in your yard, you can rent our 1966 Globetrotter Airstream.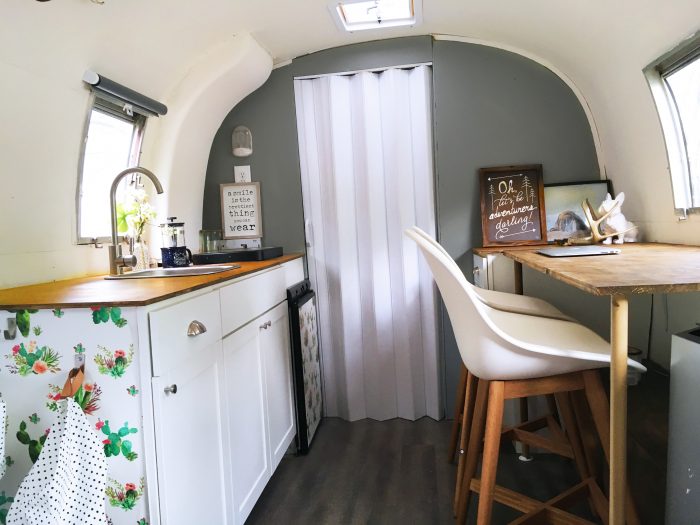 How exactly does it work? Good question. Once your booking has been confirmed, you will then receive a message from us coordinating a drop off time. When we drop off the Airstream, we will walk you through the in's and out's, but please be sure to read the "All About the Airstream" document before we arrive.  When you are finished using the Airstream, we will then come pick her up! Easy peasy.
Is the Airstream air conditioned? You betcha!
What kind of electrical outlet will we need to provide? Just a regular ol' three prong plug will work. Her electrical system isn't strong enough to require a typical 30AMP RV plug. We will bring one extension cord, but depending on where the Airstream is parked in relation to your nearest outlet, you will need to provide additional extension cords.
How many can the Airstream sleep? Ideally, two adults. There is only one bed, queen size, so it would be most comfortable for one to two adults.
Is there a bathroom?  Why yes there is! This is glamping at it's finest my friends.
What area do you service? Right now, we are restricted to servicing the Austin area. We hope to expand in the future!
What about my HOA? Good question! I can't speak to your HOA rules, but most do not allow travel trailers to be parked in the driveway. This is something you could check on though. However, many neighborhoods, such as the Cuernavaca area, do not have an HOA so no need to worry.
[abc-bookingform hide_other="1″]
[abc-single calendar="1″ legend="1″]