If your Airstream or vintage trailer has been sitting in the same spot for a long time, it is likely due for an axle upgrade. Replacing them with new axles is not necessarily an easy task, but it can be done. It really depends on your skills and the tools you have.  Many people would say you don't really need to replace them and some will say it is absolutely necessary. I say it depends on the trailer. In this particular case, the answer was clear.
Airstream Axle Replacement Cost
There are a lot of factors to consider when replacing the axles on a vintage Airstream. Are you going to do the work yourself? What part of the USA or world are you in? How much do you want to spend…. First, I'm a DIYer to the max, so of course I replaced the axles myself.  But, there are a few tools you need so you need to factor that into the cost. Plus, the axles are HEAVY! Shipping costs are expensive. I was able to pick mine up in Arlington, Texas.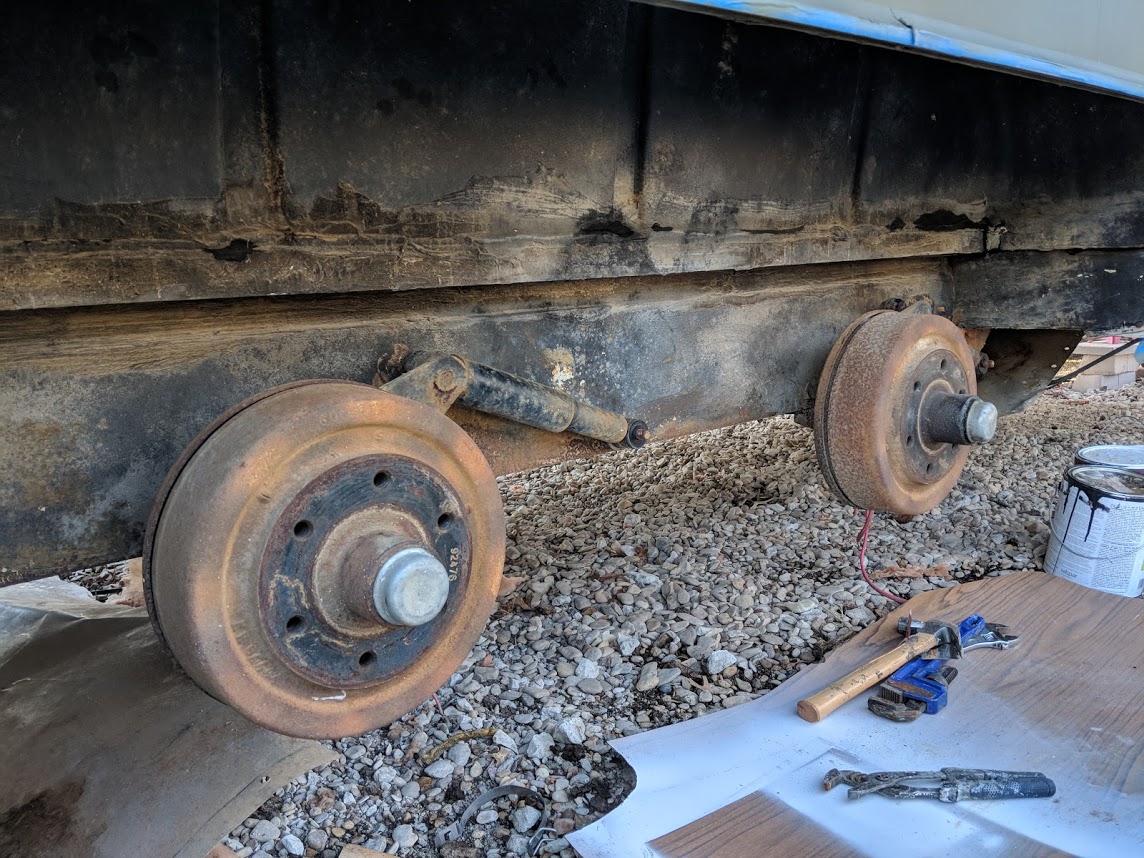 I ordered the axles from Inland RV out of California. It seems there are a lot of middlemen between them and the customer. For instance, you order from Inland RV, who I suppose then orders from Dexter (the axle maker) who then ships them to Redneck Trailer Supply in Texas. I reckon you might be able to order them direct. You also have to get someone to weld on the shock brackets.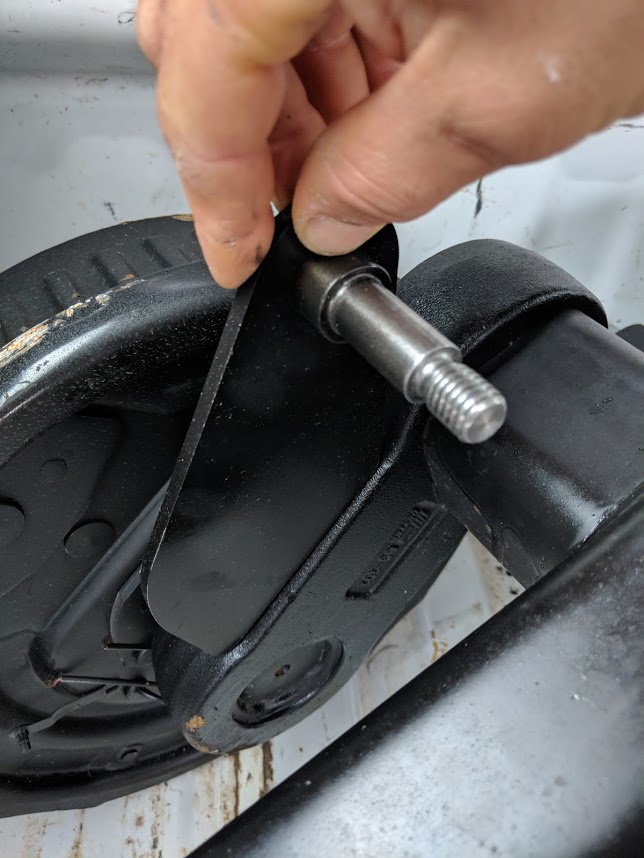 Airstream Axle Installation
In the simplest terms, in order to replace axles on an Airstream, you just unbolt the old ones and then bolt on the new ones. This is the case if you get the axles from Inland RV. I'm not sure if there is another way if you order them elsewhere.  During the installation, you'll find that one hard part is getting the old bolts off the trailer. They are usually seized by rust and you may have to cut them off. The actual HARDEST part in my opinion is getting these heavy suckers under the trailer. Each one weighs about 250 pounds or so. Seriously, between the task of getting the axles in and out of the truck, then dragging them to the trailer, then "sliding" them under the trailer, then using all of your strength to get them in place, you might just give yourself a backache, a hernia or busted finger. OR, ALL OF THOSE. Maybe it is best if you have some sort of dolly system and concrete to work on and not dirt and grass and good ol' fashioned HeManism to get the job done. ..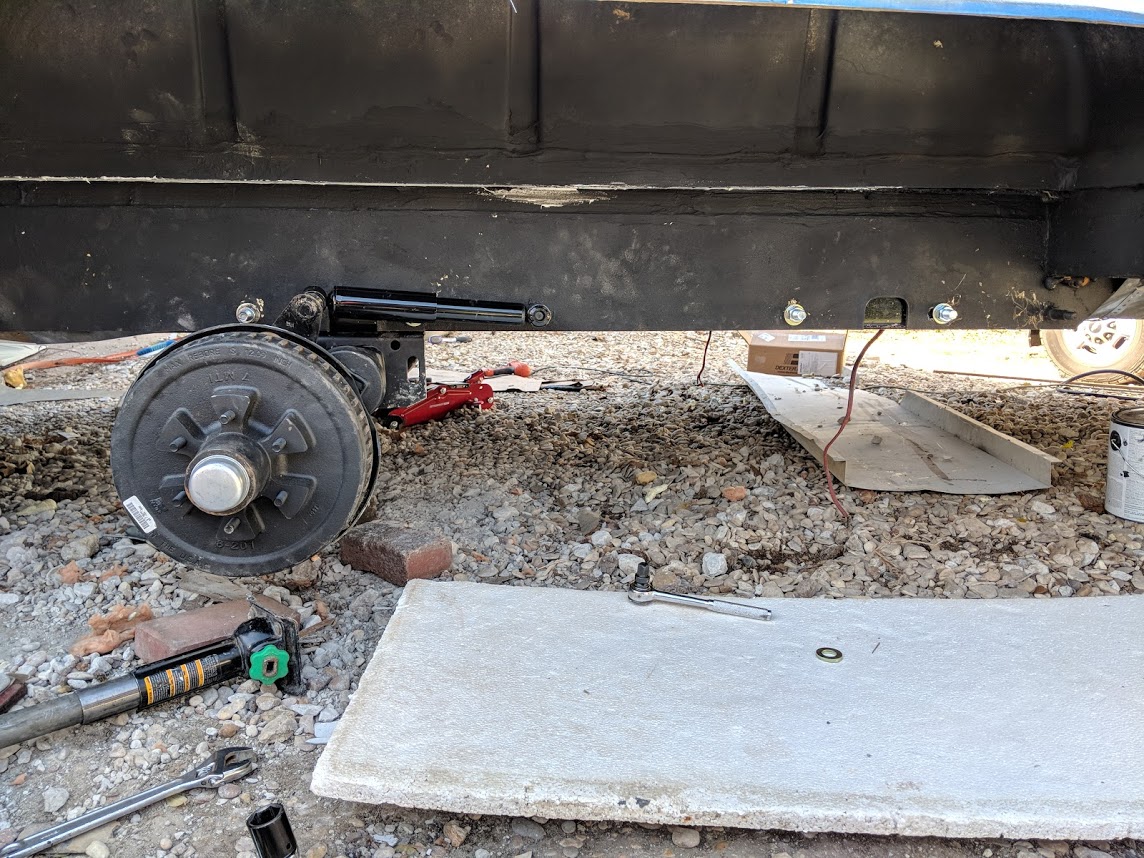 Once the axles are on, you will see that you get quite a lift. The axles also come with  shocks which you mount at the same time. In this case I added the Dexter lift kit to give the trailer even more of a lift. I did this to ensure my new tanks don't drag on any dirt roads I'll soon find myself driving down.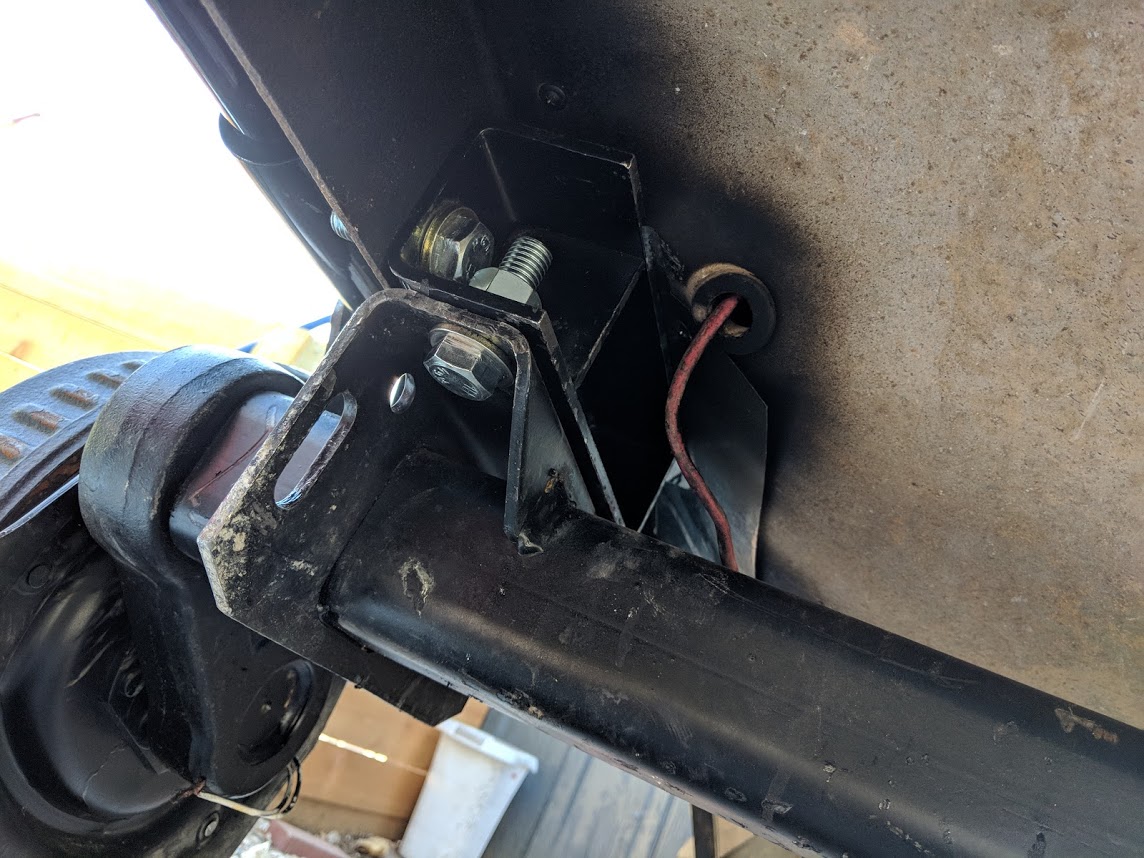 If you plan to install new axles on your Airstream, remember that you are going to spend a lot of time on your back and UNDER the trailer. Make sure you have some sturdy jacks. The trailer falling on you is a very real concern. This is hazardous work people!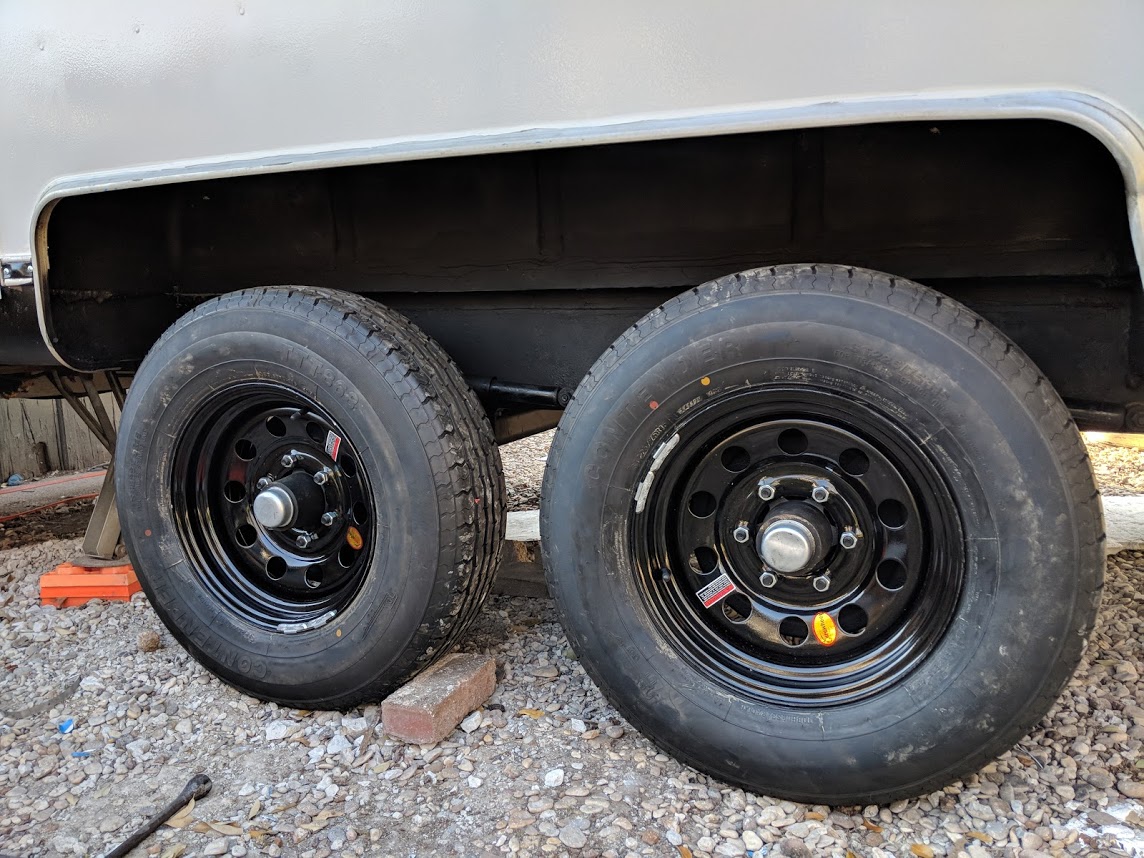 Once the axles were on, I discovered that my old vintage wheels wouldn't fit on the hubs! Of course, this was after I had already purchased tires and had them mounted. I then had to go back to the tire shop and claim to not understand why they wouldn't fit…. I paid for the tires to be mounted on my newly purchased wheels and installed them on the Argosy.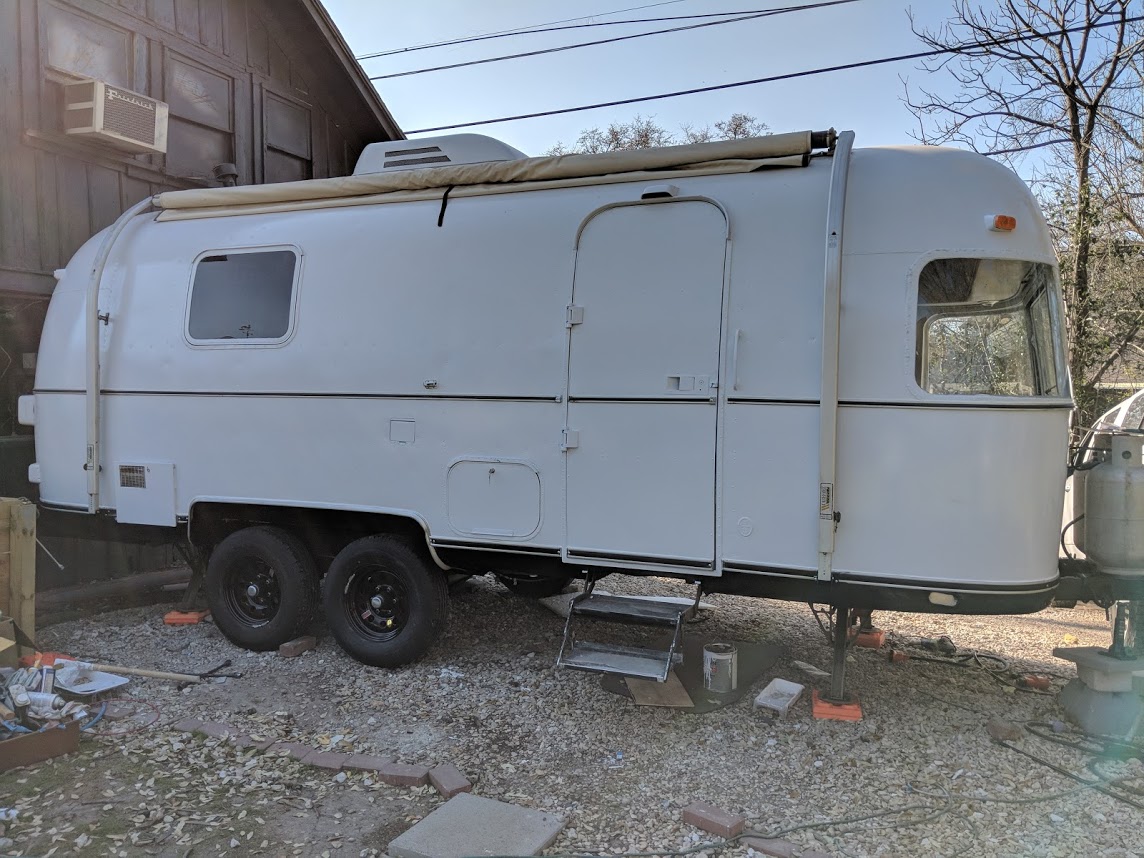 With the lift kit, the new shocks and the new tires, the trailer is MUCH taller than it was before. I just might have to add an extra step to get in the door!
MR. TCP