Painting an Airstream Is No Joke!
Technically, this is an Argosy, not an Airstream. The difference between an Airstream and an Argosy is the Argosy is painted and Airstreams are usually shined. Also, when the Argosy was available from Airstream, it was considered a "budget" trailer. It was dubbed "The Mid-Priced Travel Trailer with the Airstream Pedigree!" Classic.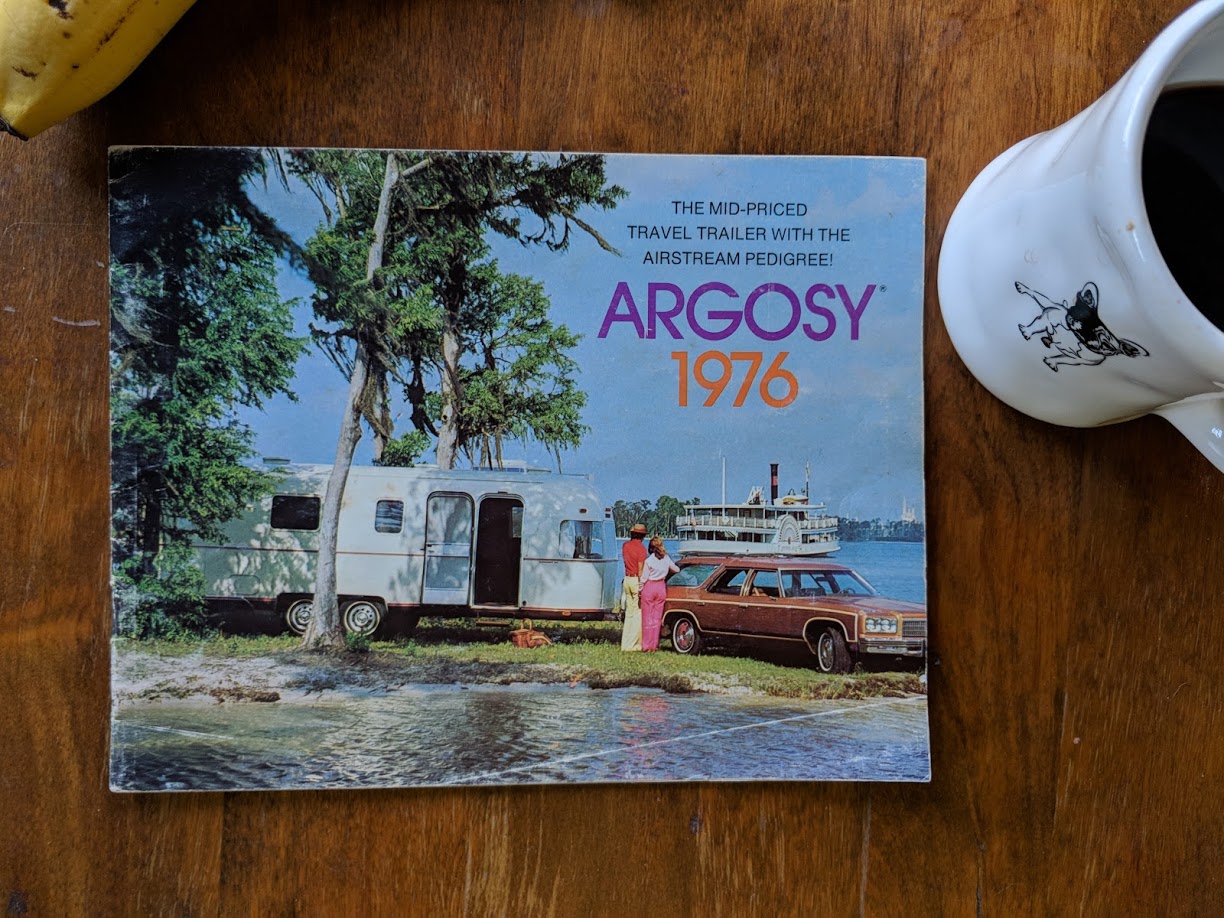 Sanding and Stripping Paint from an Airstream
Over time, paint fades, chips, cracks and gets scratched. Especially, if it sits in the sun for an extended period and never moves, or gets washed, waxed or even looked at. On something as large as a vintage travel trailer, this becomes obvious. I started with a paint stripper product from The Home Depot. It worked, but it was real slow and time consuming. I like to GET THINGS DONE.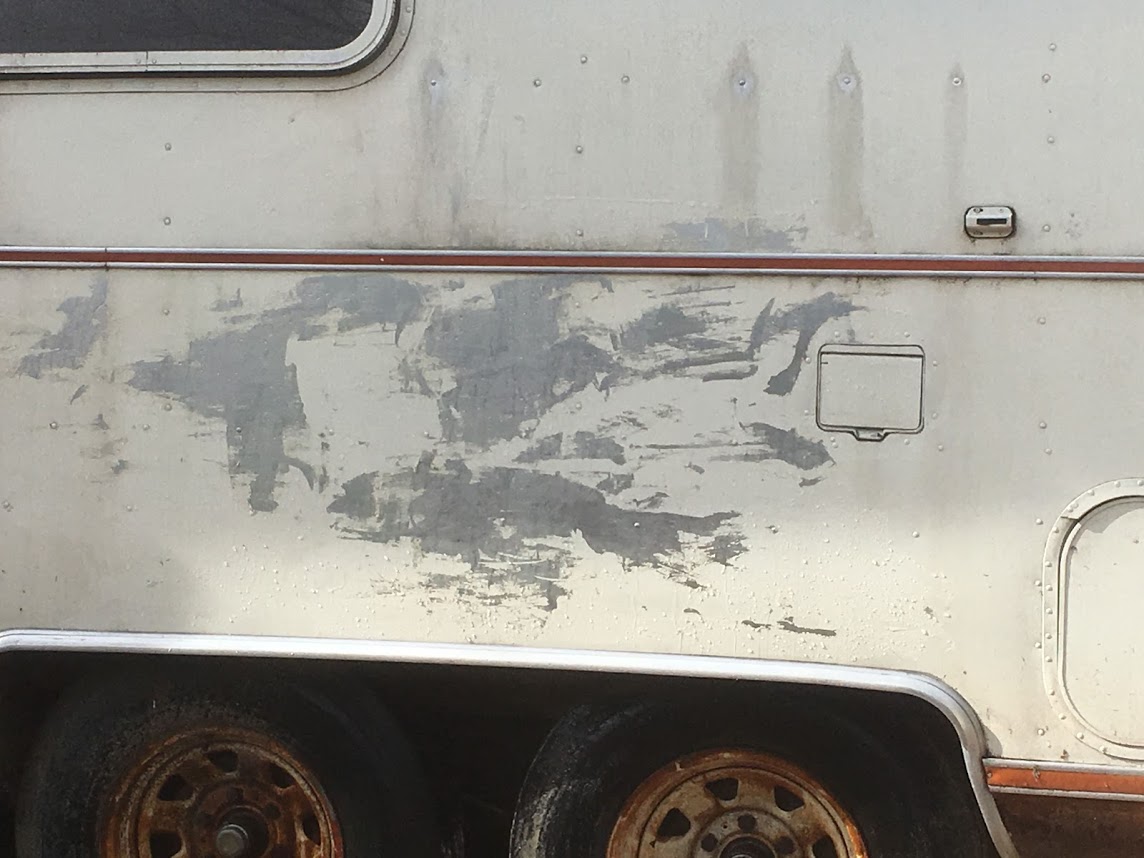 With the stripper, all it really took was slapping it on the trailer and then 2 minutes later, scraping away the paint. But, it would leave some paint and residue on the trailer that was hard to get off. So, out came the power sander! I've read you shouldn't do this, because it will leave nasty scratches and swirl marks. That did happen, but I went back over it with a finer grain of sandpaper and knocked the scratches down smoother. Mrs. Tin Can Plan even got involved and did some of the sanding! I thought that once I painted it with primer, these lines would fill in and you wouldn't see them. Guess what? I was right.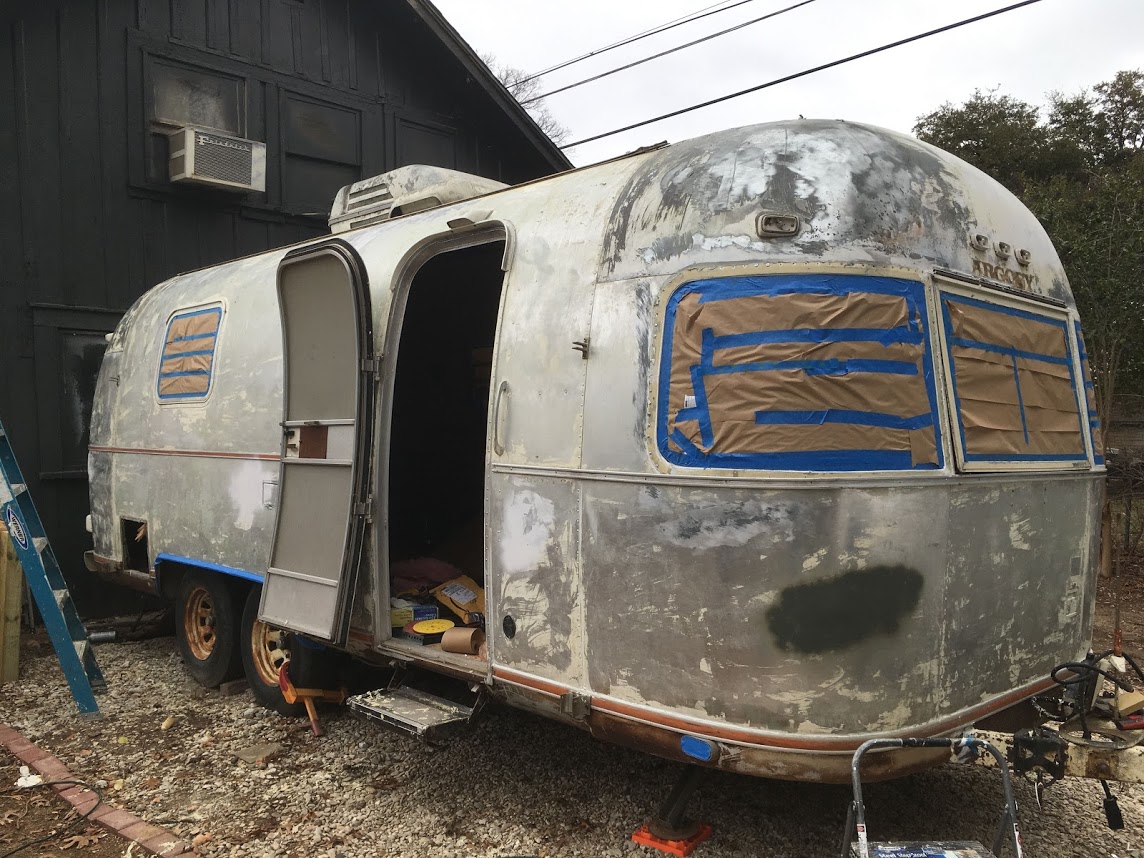 Painting an Airstream with primer
Next, I bought some Self-Etching Primer from Rustoleum spray paint. I had to purchase a TON of cans in order to get the whole trailer painted. Where we are right now, every other day it was either really windy, cold or raining, so it took quite a bit of time to finally finish priming the whole trailer.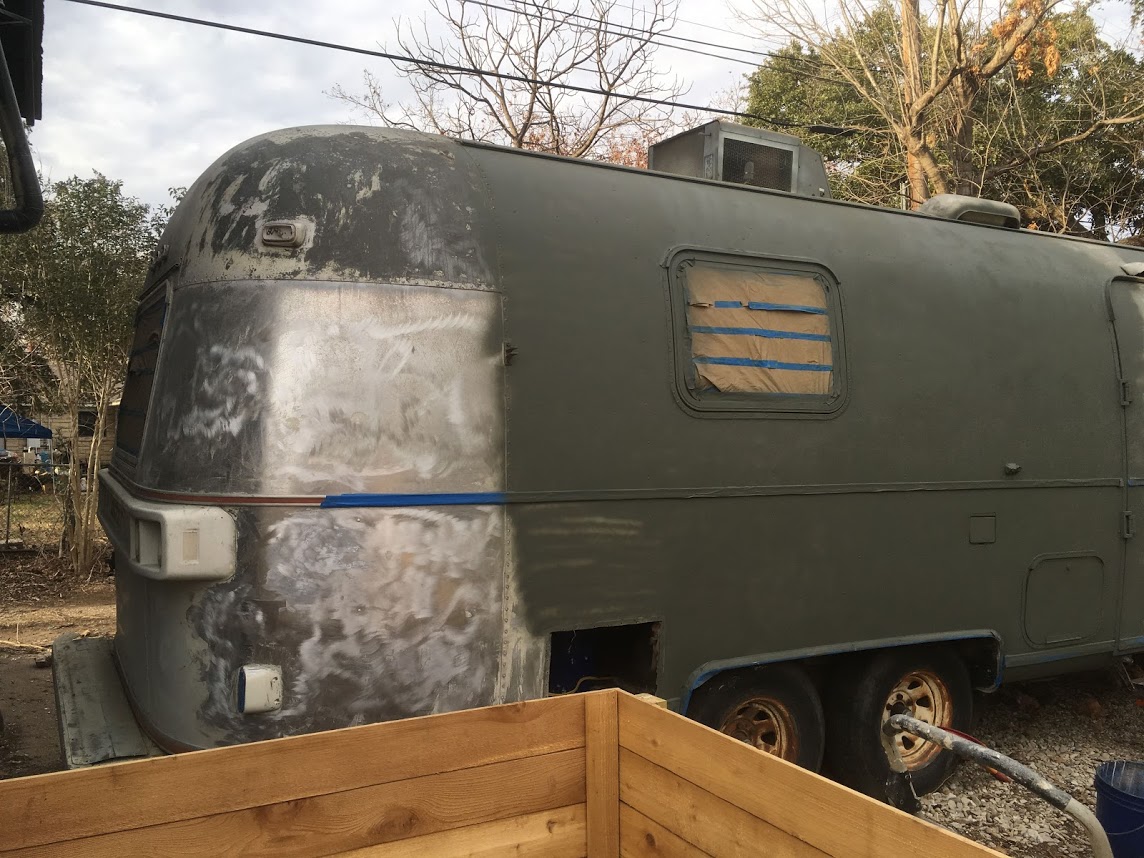 The primer creates a nice, rough finish for the final top coat to cling to. When I first started priming, the color is almost green. To anyone watching (my neighbors) it looked as if I was painting this ugly trailer a nice shade of CAMO! I found it very amusing at the time. It dried a flat gray color.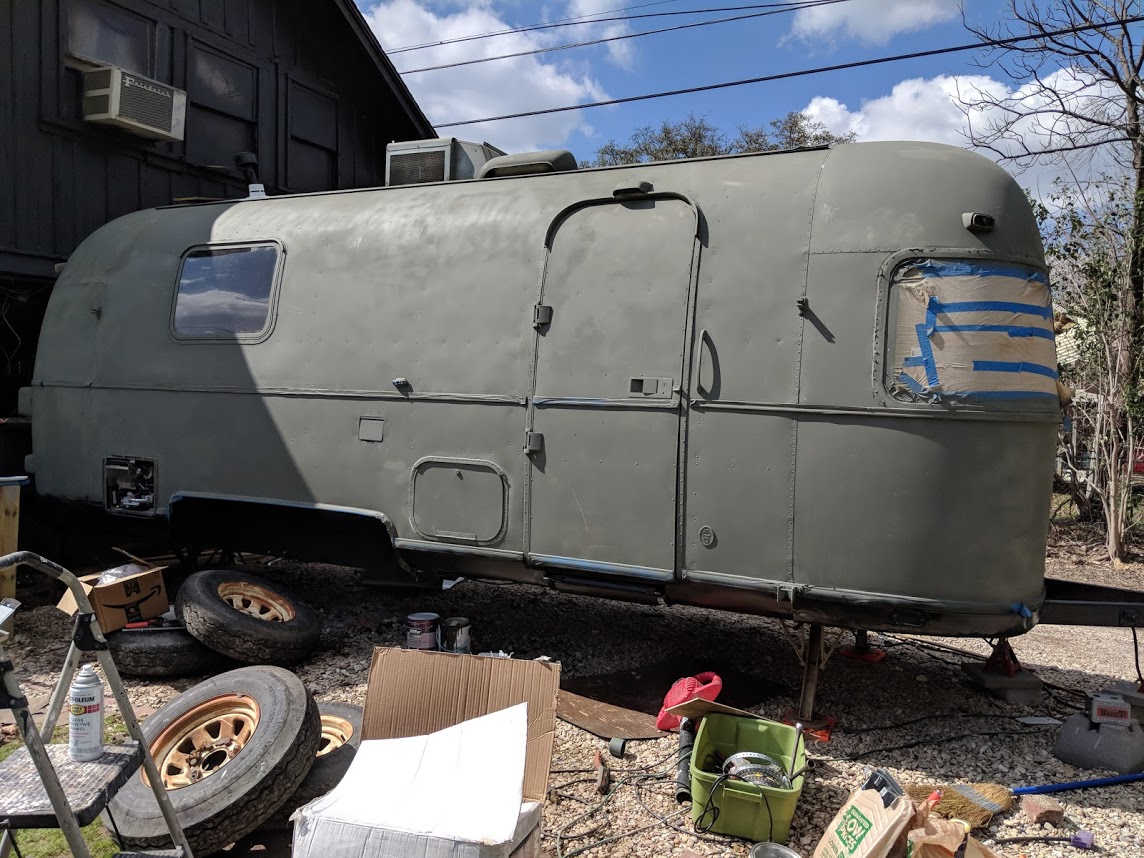 Painting an Airstream with a roller
Finally, I decided that since the wind would never stop blowing, that I would just use a roller to for the final paint job. I read a few blogs and posts about what kind of paint people use for cars, boats and other things. They use very expensive, hard to find paint. I wasn't interested in that expensive stuff, because, frankly, I'm painting the sucker with a roller! Who does that?!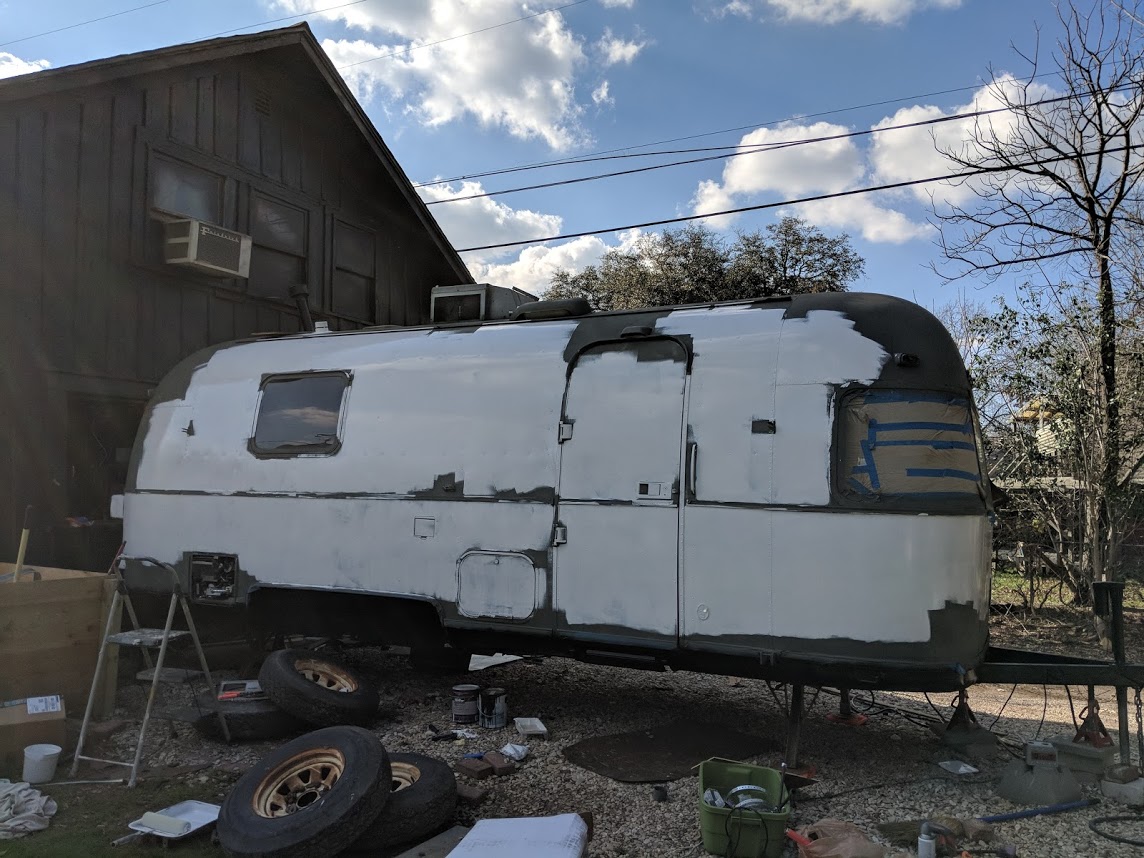 Exterior Argosy and Airstream Paint
I used the oil based metal paint you can find at The Home Depot and went to town. I thinned the paint and then rolled on a first coat. I used foam rollers so there wouldn't be any fuzz left in the paint. Next, I wet sanded it, then I painted again. Then, I wet sanded with a finer grit. Then, I painted again! I did this about 3 times. For an exact step by step, check out the blog at Argosy Traveling as they have a great step by step on how to paint an Airstream as well. The trailer is now GLOSS WHITE and I did end up with some dirt, grit and bugs stuck in the trailer in some places. But, that's what happens when you paint outside.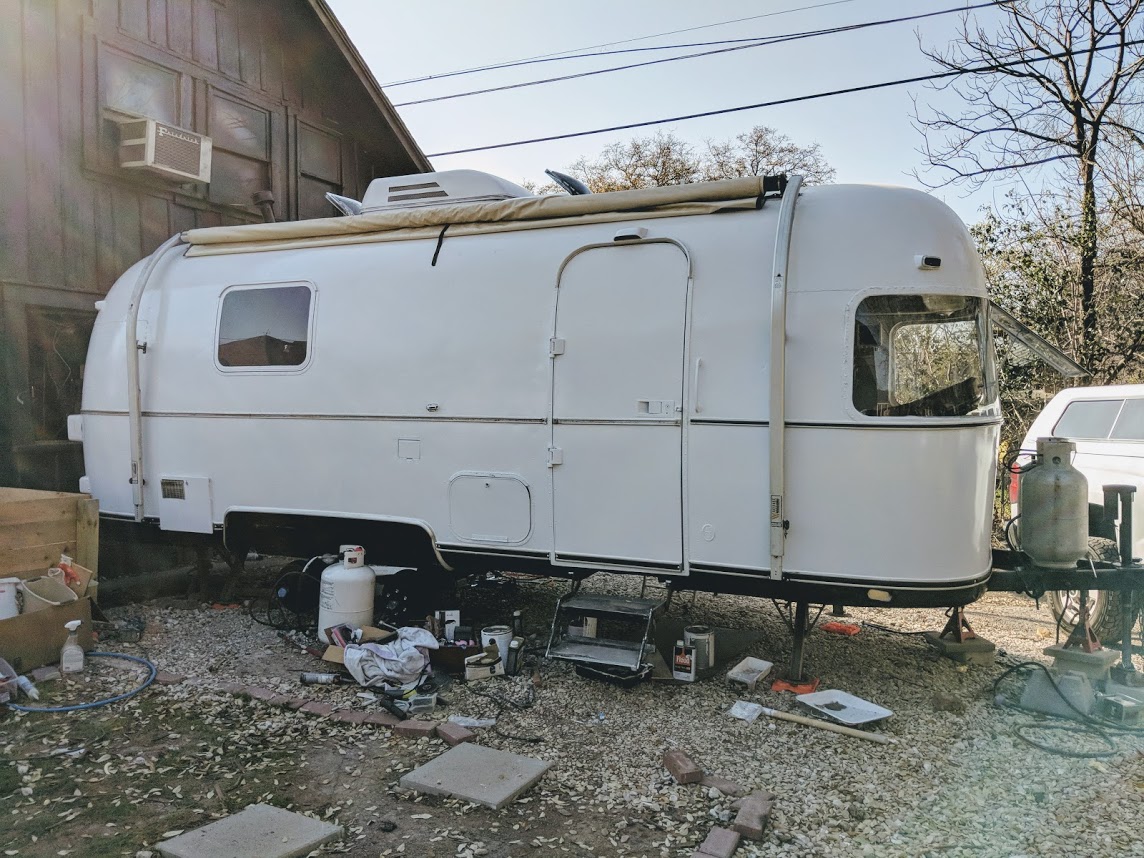 The final paint job does have some "orange peel" in it, but I can live with it. You can't see it until you get close to it. That's a running theme with my work. Stay far back! Since I used a paint you can find just about anywhere, I'll be able to do touch ups when the paint scratches off.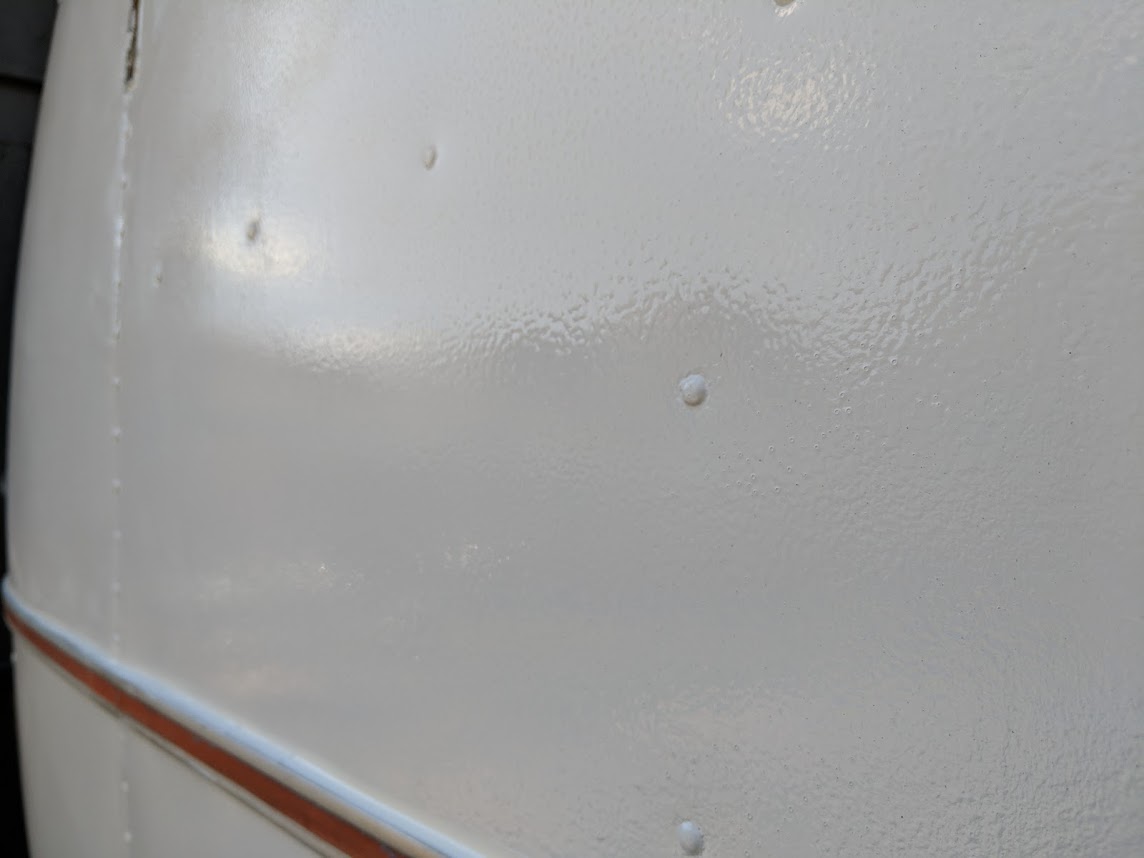 What's the best part about painting an Airstream? Not having to polish it!
Mr. TCP